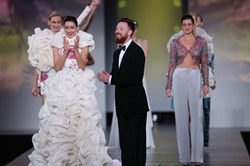 Bradon McDonald graduated from FIDM in 2013
Los Angeles, CA (PRWEB) July 13, 2013
On July 18, 2013 at 9/8c, the 12th season of Project Runway will kickoff on Lifetime, featuring two FIDM Graduates: Bradon McDonald and Alexander Pope. The two designers, who both majored in fashion design at FIDM/Fashion Institute of Design & Merchandising, will join 10 other competitors to "Make It Work" on the hit fashion docu-series, hosted by Heidi Klum (who also serves as a judge), mentor Tim Gunn, and judges Nina Garcia and designer Zac Posen.
Bradon, an art aficionado and Julliard-trained modern dancer, has a home studio where he experiments with fabric manipulation and uncommon hand-sewing techniques. Alexander, who lives and works in Ridgewood, NY, works in costume construction for Broadway shows and has been a makeup artist for editorials and runway shows for a decade. He says he is influenced by music and loves playing opera, electro, or Broadway musicals while designing. "I bring not only fashion, but a pretty extensive costume background to the table," he says. "I think that knowledge really helps me design some creatively interesting clothing."
FIDM and Project Runway share a long history, spanning more than a decade. FIDM Graduates such as Nick Verreos, Kelli Martin, Santino Rice, Daniel Franco, Guadalupe Vidal, Sarah Trost, Serena da Canceicao, Joshua Christensen, Beatrice Guapo, and winner Leanne Marshall are all Project Runway alums. Season 6 of the hit show was filmed at FIDM's L.A. campus.
FIDM/Fashion Institute of Design & Merchandising is a co-educational, specialized, private college dedicated to educating students for the Fashion, Graphics, Interior Design, and Entertainment industries. Known as a one of the top fashion design schools, FIDM is also a leading graphic design school and digital media college. Visit fidm.edu for more information.