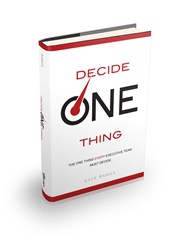 "This book is full of ideas that will kindle the imagination of any leader."
Tysons Corner, VA (PRWEB) July 16, 2013
SHIFTPOINTS® (shiftpoints.com) is pleased to announce the release of Decide One Thing (decideonething.com) a new book authored by CEO Dave Ramos and published by Advantage Media.
"In today's turbulent times, there is a tremendous amount of anxiety," Ramos asserts. "Leaders are faced with unprecedented competition. Business models are made obsolete overnight. Entire industries are being restructured by one deal. All of this anxiety can cause organizations to nearly grind to a halt. The antidote for anxiety is clarity."
In Decide One Thing, Ramos, a Harvard Business School alum and former IBM and Nortel Networks leader, challenges executive teams to "decide one thing, align everything, and win."
Decide One Thing highlights:

Organizations have to be good at lots of things, but the way to win is to become differentiatingly great at one thing.
An executive team must honestly and critically examine their organization and define the single differentiating factor that sets them apart. This is their One Thing.
Next, the organization must align everything and everyone with their One Thing.
SHIFTPOINTS clients that have fully implemented this model have doubled and tripled in size.
The book features case studies examining iconic brands, such as BMW, Nordstrom and Dyson, as well as high-growth innovators, such as Site Organic, BTI360, and NeoSystems.
Available now in hardback and eBook versions.
Ken Blanchard, bestselling author of The One Minute Manager® and Trust Works! said this about Decide One Thing,
"This book is full of ideas that will kindle the imagination of any leader."
Based in our nation's capital, SHIFTPOINTS provides strategy consulting and organization development services, helping executive teams build differentiation-driven organizations. To learn more, visit SHIFTPOINTS.com.