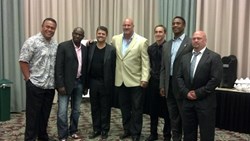 We want to make 2013 the year we spread awareness of sleep apnea to men and women.
Phoenix, AZ (PRWEB) July 12, 2013
While the cost of healthcare is soaring, millions of Americans are snoring their way into a serious disease called obstructive sleep apnea. Standing in the forefront of bringing awareness to the public is David Gergen, President of Pro Player Health Alliance and Gergen's Orthodontic Lab. Focusing on treating current and retired athletes with the Herbst Appliance and teaming up with them to share their testimony at free events across the country, he is diligently striving to "Wake America Up" to obstructive sleep apnea and the treatment that is available. Many don't know all of the options available, such as the Herbst Appliance, which is a large part in the "Tackle Sleep Apnea" campaign launched by Pro Player Health Alliance recently.
The Herbst appliance allows patients to move laterally and vertically without disengaging the appliance from teeth. It can be fabricated from hard acrylic, which is recommended, or thermo active and soft/hard materials to retain teeth via friction grip or clasps. The Herbst Sleep Appliance is a mandibular re-positioner that has been in use many years for orthodontic and TMJ therapy prior to its modification for treatment of sleep disordered breathing. The greatest advantage of the appliance is that it allows for very quick, easy and accurate mandibular protrusive adjustability.
The Herbst Appliance is an excellent appliance that is cost effective, high patient compliance and allows in office correction in minimal chair time. Gergen's Orthodontic Lab makes more of this appliance than any lab in the United States and is one of two labs in the country that, if made by them, can be billed to Medicare.
After treating over 160 former professional athletes with the oral appliance, they can't help but to share the news with their teammates and fans. Sharing their personal struggles has become the back bone of the Pro Player Health Alliance mission to spread awareness to as many people as possible. To learn more about success stories of players and fans across the country, visit http://www.proplayersleep.com.
About Pro Player Health Alliance
The Pro Player Health Alliance (PPHA) is an organization dedicated to helping former NFL players, through providing testing and treatment options for those who suffer from sleep apnea. In addition, the PPHA is dedicated to integrating education and raising sleep apnea awareness, in a fun and memorable way. In addition to the campaign, the PPHA is dedicated to testing and getting people treated. The PPHA was created by David Gergen, President of Gergen's Orthodontic Lab and Former NFL legends.
About David Gergen
As President of Pro Player Health Alliance and Gergen's Orthodontic Lab, he has been a nationally respected dental lab technician for over 25 years. He received the award for "The Finest Orthodontic Technician in the Country" given by Columbus Dental in 1986. He also has been appointed chair of the dental wing of the American Sleep and Breathing Academy a national interdisciplinary academy dedicated to sleep training and education with over 60,000 members. He has worked for some of the pioneers in the orthodontic and sleep dentistry fields. One of his proudest achievements is receiving The National Leadership award for Arizona Small Businessman of the Year in 2004.