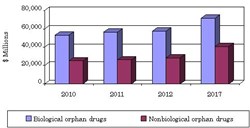 Wellesley, MA (PRWEB) July 16, 2013
In the new report, GLOBAL MARKETS FOR ORPHAN DRUGS (PHM038D), from BCC Research (http://www.bccresearch.com), the global market for orphan drugs was valued at $82.6 billion in 2011 and nearly $86 billion in 2012. The report forecasts total market value to reach $112 billion in 2017, after increasing at a five-year compound annual growth rate (CAGR) of 5.4%.
Orphan drugs are drugs that treat orphan diseases. An orphan disease is a disease that does not receive significant investment, research, or attention from the medical and pharmaceutical industries. Orphan diseases are most often rare diseases and are defined by using a ratio of incidence to population in the U.S., the EU, Japan and other developed countries. An orphan disease can also be a tropical disease whose typical sufferers cannot afford access to pharmaceutical treatment options.
Orphan diseases did not receive much attention from the pharmaceutical industry until the U.S. passed the first Orphan Drug Act in 1983. Other countries quickly began following suit with versions of the Orphan Drug Act. Before governments began passing these acts, the pharmaceutical industry could not make a profit from orphan drugs because of the small market size. Government intervention opened a path to profitability for pharmaceutical companies and created an interest to develop orphan drugs.
BCC Research's Report analyzes the market for orphan drugs by region, by biological and non-biological drug type, by active ingredient, and by area of medical application. The report reveals why orphan drugs for oncology are the largest category for both biological and non-biological drugs. The report includes a detailed analysis of all other categories within biological and non-biological drugs.
This BCC Research report also provides a detailed explanation of the current market value, forecast, and growth rate for the next five years for both the biological and non-biological orphan drug segments. BCC Research valued the biological orphan drug segment at $57.7 billion in 2012, and expects the value to reach nearly $71.4 billion in 2017, registering a CAGR (compound annual growth rate) of 4.3%. The report valued non-biological orphan drugs at $28.3 billion in 2012, and forecasts the market to reach $40.8 billion in 2017, after growing at a CAGR (compound annual growth rate) of 7.5%.
Some of the growth drivers for the orphan drugs market discussed by BCC Research in the report include increased research and development, new technology, additional regulatory easing, and new product launches. Additionally, the ability of pharmaceutical companies to use orphan drugs for off-label uses is also helping in achieving market growth.
This BCC Research report provides insights into the regulations and laws that are allowing the orphan drugs market to grow. BCC Research's report provides clear and precise guidance on every aspect of the industry.
The study will be beneficial to pharmaceutical and biotechnical companies, research institutes, and physicians.