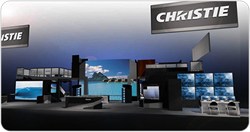 Christie will impress visitors with exciting, technologically-advanced and user-friendly visual solutions.
Orlando, FL (PRWEB) July 23, 2013
The Christie® booth will be in the InfoComm 2013 spotlight June 12-14 at the Orange County Convention Center in Orlando, Florida. Christie will impress visitors with exciting, technologically-advanced and user-friendly visual solutions for the Pro AV, large venue, architectural, corporate, broadcast, control room and digital signage markets and demonstrate how businesses, government entities and academia can maximize their visual technology assets, while satisfying customers.
Projection Mapping Takes a new Turn
With the engaging interactive Christie Design Studio display, designers and engineers will see how what they imagine can become reality. The display features four Christie G Series 1-chip DLP® projectors in a projection mapping application featuring a prototype Audi R8. The Design Studio is supported by 37 Christie MicroTiles® to create a gorgeous and changeable backdrop. A second projection mapping installation, a mini-pyramid, demonstrates how a small installation can create big impact. The mini-pyramid projection mapping solution features Christie's E-series projection.
Christie Brio Meeting Room Solution lets Participants Share More Than Ever
As announced earlier, Christie Brio makes its global debut at InfoComm. Christie Brio sets new standards in meeting room presentation and collaboration, making it easier than ever to pool resources with colleagues anywhere without dongles, software or drivers to slow things down. Information including presentations, audio, digital whiteboard, and videoconferencing – added to any display attached to a Christie Brio node – are shared with all displays in the same meeting.
Christie Asserts its Control in Projector Market
Christie is also unveiling the Christie InControl™ app at InfoComm 2013. Christie InControl is aimed at rental and staging customers using Christie 3-chip DLP® M Series and J Series projectors in various applications including trade shows, live events and projection mapping. Fixed installation applications such as classrooms and boardrooms, houses of worship, government facilities and museums will also enjoy the convenience of managing the projector wirelessly.
The main interface includes projector on/off, fade to black and shutter on/off, test pattern and main and secondary input selection, projector orientation, and OSD on/off for complete command of lens settings and imagery.
Christie Continues to set the Standard in Multi-touch Interactive and Flat-panel Displays
Christie is also introducing the next generation of the Christie JumpStart content management solution, as well as the Christie FHD551-X flat panel with bonded Corning® Gorilla® Glass (the Christie FHD551-XG) , and a new multi-touch video wall solution to be displayed in the LCD Panel Gallery. The turnkey Christie multi-touch video wall solution – an industry first – comprising a 4-unit wide by 1-unit high row of the portrait-mounted Christie FHD551-XG, Christie Interactivity Kit, Christie JumpStart and the mounting system for a wall-mounted or freestanding display. The new Christie JumpStart boasts six outputs and the ability to drive content at 15 megapixels. With a 3.6 GHz processor, 16 GB memory and 64-bit server JumpStart's more powerful workstation offers even faster performance.
Featured at the booth and already a big hit in the market is the Christie WeatherAll FHD551-W 55 inch outdoor LCD flat panel with optically bonded glass – the clear answer for high traffic areas such as outdoor sporting events and other open-air applications. Fully weatherproof, the Christie WeatherAll FHD551-W resists impacts and scratches; providing an industry-rated IP56/NEMA 4 outdoor display solution that can be deployed in virtually any environment, weather or season with complete peace of mind.
72-inch Christie Entero HB Video Wall Cube makes its Mark
Christie expands its line of Christie® Entero™ HB video wall offerings and strengthens its dominance in the industry with the introduction of the Christie Entero HB 72-inch WUXGA (1920 x 1200) display wall cube and rear projection light engine. The bigger and better control room addition to the projection cube lineup sets new standards in power, performance and image brightness with up to 1100 lumens capability.
Built upon the proven Christie Entero HB platform – the first and only LED control room display to offer Wi-Fi capability for remote adjustments and diagnosis through any wireless device – it features proprietary third generation ArraySync™ for superior automatic color and brightness management. Designed for 24/7 environments, it represents the best price/performance on the market, with superior and intuitive modular design, easy upgradability, and flexible operation for the demands of power and utilities, government, security and surveillance, and public and emergency services.
Driving the content will be the Christie Phoenix™, which lets all users easily access and control audio-visual data securely from anywhere, at any time via standard IP networking technology. With Christie Phoenix, the same information, presented in the same format simultaneously is made available to all users regardless of their location.
Christie Projection Technology Leads the Market
The Christie E Series of 1-chip DLP® projectors are another show highlight. Working in conjunction with the Christie Spyder video processor, several Christie E Series projectors will be displaying rich, engaging content that shows Christie is at the forefront of technology. The booth also features the Christie D4K3560 featuring 35,000 center lumens, native 4K (4096 x 2160) resolution for ultra-realistic images. The Christie D4K3560 delivers smoother video at 60Hz with unique Christie TruLife™ electronics– a quantum leap in video-image processing featuring high frame rate and high-resolution video projection.
This projector's 3-chip DLP® performance and durability make it ideal for large applications such as amusement parks, auditoriums, casinos, classrooms, museums, planetariums, theaters and virtual design centers.
On the main level of the Christie booth is the LCD gallery featuring the Christie LW720, Christie LWU501i and the Christie LW41 while the second floor is showcasing the Christie Spyder X20 managing and controlling content displayed by several Christie E Series and Christie G Series projectors.
Also among the booth offerings are the award-winning Christie Nitro Solutions; the integrated moving yokes and digital projector systems that enable bright, high-quality video and lighting effects to be projected onto virtually any surface. For InfoComm 2013, two Christie YK100 single-arm yokes will be supporting the Christie WU14K-M projectors.
Managing the content throughout the Christie booth is the Christie Spyder X20, a versatile hardware-based video processor combined with the flexibility of a universal routing switcher.
About Christie
Christie is a global visual technologies company and is a wholly-owned subsidiary of Ushio, Inc. Consistently setting the standards by being the first to market some of the world's most advanced projectors and complete system displays, Christie is recognized as one of the most innovative visual technology companies in the world. From retail displays to Hollywood, mission critical command centers to classrooms and training simulators, Christie display solutions and projectors capture the attention of audiences around the world with dynamic and stunning images. For more information, visit http://www.christiedigital.com
For more information contact:
John Berkovich, Christie
(519) 741-3829
john.berkovich(at)christiedigital(dot)com
Mario Almonte, Herman & Almonte Public Relations
(212) 616-1190, ext. 267
malmonte(at)Herman-Almontepr(dot)com
Follow Christie's activities at InfoComm 2013 on Twitter at @ChristieDigital via #InfoComm13
"Christie" is a trademark of Christie Digital Systems USA, Inc., registered in the United States of America and certain other countries.
Christie® MicroTiles® is a registered trademark of Christie Digital Systems USA, Inc.
Corning® Gorilla® Glass is a registered trademark of Corning Incorporated.
DLP® is a registered trademark of Texas Instruments