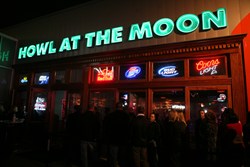 Since 1990, Howl at the Moon has been providing a party spot driven by fun, drinks, and a cutting edge dueling piano show
Chicago, IL (PRWEB) July 14, 2013
Howl at the Moon, the Dueling Piano Bar that Rocks, will be opening its newest location in Philadelphia's Center City neighborhood this September. The dueling piano bar is home to a high-energy, interactive music experience that's been a nightlife staple in cities across the country from Chicago to Boston as well as on Norwegian Cruise Line ships Epic and Breakaway.
"Since 1990, Howl at the Moon has been providing a party spot driven by fun, drinks, and a cutting edge dueling piano show that is ever evolving," said owner Jimmy Bernstein, "We offer a very upbeat and lively form of live music entertainment that will be a great addition for the people of Philly."
Howl's entertainers perform on pianos, drums, guitars, and more in a show that never works on a set list or template. Whether it's a Wednesday or Saturday night, you will hear everything from "Blurred Lines" to "Living on a Prayer" in an energized, cool-lit atmosphere.
To complement the music, Howl at the Moon will host some of the hottest cocktails in the industry including 86-ounce buckets of booze (top sellers are Sex on the Moon and The Jumbo Hurricane) and over-sized Jell-O injectors distributed by party hosts dressed up as cheerleaders and cowboys. In addition, the bar will be stocked with an array of local craft beers and of course, Moonshine.
Whether you're looking for amazing live music or just a non-stop party, Howl at the Moon has you covered.
Howl at the Moon's grand opening is planned for early September and will consist of numerous invite-only, sneak peak parties. For more information and to reserve your invite, follow their Facebook page or visit the website.
Please send press inquiries to: Michael.Yates(at)howlatthemoon(dot)com
Howl at the Moon
258 S 15th Street
Philadelphia, PA 19102
###