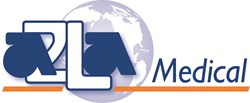 Frederick, MD (PRWEB) July 17, 2013
The American Association for Laboratory Accreditation (A2LA) is proud to offer the training course, "ISO 15189:2012 and Medical Laboratory Accreditation," a course created specifically for medical testing laboratory personnel. A2LA will offer this course November 4-5, 2013 at the Courtyard Atlanta Downtown in Atlanta, GA. The cost will be $745.00 for A2LA members and $795.00 for non-members.
This course will use lecture, discussion and interactive exercises to provide a comprehensive review of the newly revised and recently published ISO 15189:2012 standard. Specific instruction will focus on the more difficult requirements of the standard such as measurement uncertainty and management review. Through the implementation of ISO 15189, attendees will be able to use a systems view of quality management to better design and implement laboratory functions, to create a total laboratory process that addresses the principles of quality medical laboratory services, and to implement pre-examination, examination and post-examination processes essential to patient care.
For more information on this course and others, contact Julie Collins, A2LA Training and Membership Manager, at jcollins(at)A2LA(dot)org or 301.644.3235.
ABOUT A2LA:
A2LA is a non-profit, multi-discipline accreditation body with over 30 years of experience providing internationally-recognized accreditation services and quality training. A2LA's world-class accreditation services encompass testing and calibration laboratories, medical testing laboratories, inspection bodies, proficiency testing providers, reference material producers and product certification bodies. Organizations are accredited to international standards and field-specific requirements developed with government and industry collaboration. A2LA offers both public and private on-site training programs to complement the various accreditation programs.