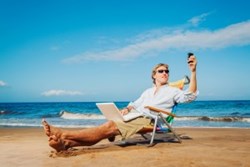 We're all guilty of taking time off from work and not really unplugging. But, if you want to continue to grow as a leader it's critical to create time for recovery and renewal. ~Sonya Shelton
Los Angeles, CA (PRWEB) July 16, 2013
July is the peak of summer travel season for Americans, but many struggle to leave work behind while on vacation. Leading executive coach Sonya Shelton, CEO and founder of Executive Leadership Consulting dishes on why time away from the office is not a luxury, but a necessity —especially for business leaders—and offers tips on how to truly unplug and recharge while away.
"Americans live in the only advanced economy in the world that does not by law guarantee workers paid vacation time or paid holidays—and then when we do take time off we can't seem to truly unplug," Shelton said. "Time to recharge should not be optional—but mandatory for business leaders."
A new global poll by Monster found North Americans much more likely than Europeans to find it acceptable to work while on vacation. And in a recent survey commissioned by LiquidSpace based on interviews with nearly 1,500 Americans, more than half reported working while on vacation—up from 42 percent in 2011. The average number of hours worked while on vacation was 11, according to the survey.
Shelton, an international speaker, consultant and author of the book "You're an Executive, But are You A Leader?" advises that a lifestyle of constant connectivity and employees' common feelings of responsibility and guilt for taking time off are two reasons why the office often becomes an uninvited guest on vacations.
"We're all guilty of taking time off from work and not really unplugging. But, if you want to continue to grow as a leader it's critical to create time for recovery and renewal," Shelton said. "Energy management is an important factor in leadership. When your energy is low, you are not as productive and effective. You may even make a snap decision you'll regret later. Although it may cause anxiety at first, agree to take a real vacation designed to renew and rejuvenate and create the opportunity to return to the office energized and full of ideas."
To avoid the temptation of checking in to work while checked out on vacation, Shelton recommends following these three rules:
1. Don't bring a computer
2. Store cell phones in the hotel safe for the trip duration
3. Instruct a colleague or assistant with how to reach you in case of a real emergency (and agree on a definition of 'emergency' in advance)
For more tips and information about Executive Leadership Consulting please visit http://www.executiveleader.com and follow Sonya Shelton on Twitter for great leadership tips and daily inspiration @SonyaShelton.
About Executive Leadership Consulting:
Sonya Shelton, CEO and founder of Executive Leadership Consulting, is the author of the book "You're an Executive, But Are You a Leader?" As an international speaker and consultant, she shows managers and executives how to increase their leadership effectiveness so they can boost their professional and business results.
Executive Leadership Consulting offers workshops and coaching programs designed to develop leadership capability at all levels of the organization. Shelton designed the programs at Executive Leadership Consulting based on her more than 25 years' experience as a leader in a variety of companies and industries, including the high-paced fields of publishing, advertising, and entertainment. She has worked as an executive coach and consultant with companies around the world from start-ups to Fortune 100 corporations, including Disney, Nestle, and Microsoft.