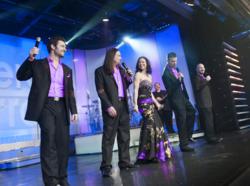 Probably the funniest comedian I have ever seen in Branson, Outstanding harmonies and vocals to boot.
Branson, Missouri (PRWEB) July 12, 2013
Branson Ticket & Travel - Pierce Arrow, BRANSON'S HOTTEST Show, has truly turned up the heat for 2013. For the first time in its existence the show has gone through a complete production renovation from the stage to the cast. Of course you will still find Jarrett Dougherty voted Branson's funniest comedian. He brings with him a slew of new characters, as well as your favorite Brother Cecil Watkins.
For more information: Click Here or call 1-800-432-4202
New to the show in 2013 is Jimmy Fulbright, long time Oak Ridge Boys band member. Jimmy brings his quartet experience and talent to the Pierce Arrow stage. Returning is American Idol finalist Luke Menard who joined the group in 2011. Guiness Book of World Record holder for singing the lowest note, Tim Storms, is also back singing notes beyond the human hearing range. Long time Springfield resident Scott Fraker, previously with the gospel group Chosen Few, also returns. Scott has been a Pierce Arrow fan favorite since 2010.
To request a free Showguide Click Here
Another new addition this year is female vocalist Michelle Wait. Michelle sizzles when she graces the stage with new country as well as traditional and gospel favorites.
Dan Britton, owner, producer, general manger and original Pierce Arrow member returns to the stage for occasional special appearances throughout the 2013 season. Dan was also a Guiness Book of World Records holder for the lowest note sung before Tim broke his record! You will not want to miss what Dan has in store for this season's all new production.
The Pierce Arrow show has been a favorite of Branson for some 13 years. This year the stage has been renovated along with a new sound system and Las Vegas custom tailored ward robe. If you think you've seen the Pierce Arrow show…think again in 2013!