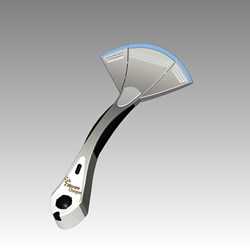 My new Eagle Wings razor makes a lot of sense, providing lubrication before the blades even hit the skin.
Houston, TX (PRWEB) July 25, 2013
Houston dermatologist-pharmacist Dr. Milton D. Moore announces his newest patented invention, the "Eagle Wings" razor (U.S. patent #8424210 issued 4/23/2013). This innovative new razor features 9 blades sporting two wings that pivot, providing a convex or curved shaving surface to fit much better with the natural curves of the face and head.
Eagle Wings is the latest unique invention by Dr. Milton Moore, founder of Moore Unique Skin Care, L.L.C. Dr. Moore has used his extensive knowledge of pharmacology and over 20 years of experience in practice as a Dermatologist in Houston, Texas to create his unique and extremely effective line of skin care products.
The new Eagle Wings razor not only features nine blades but dispenses a patented shave gel that is released through a battery operated heating pump, lubricating the skin before the blades ever pass over the skin and cut the hair.
"Once word gets out that current technology doesn't give any lubrication on the first pass of the blade, people will very quickly see that they've been using something that is antiquated and doesn't make a lot of sense," said Dr. Moore. "My new Eagle Wings razor makes a lot of sense, providing lubrication before the blades even hit the skin."
The Eagle Wings razor is part of the new three product Moore Unique Ascend collection, consisting of the razor, a cologne and a patented shave gel, Hydroglide Ascend. All three products are expected to be on the market later this year.
In addition to the Eagle Wings razor, Dr. Moore has developed, patented and marketed a full line of 12 skin care products under Moore Unique Skin Care, LLC, many of which are sold at mooreunique.com and at select Walgreens™, which has carried Moore Unique products for more than 15 years.
Dr. Milton Moore was recently honored with a City of Houston Proclamation for his ongoing unique contributions to personal grooming health, inventing products that get rid of razor bumps leading to a clean shave and improving the overall health and wellbeing of the residents of the Houston area.