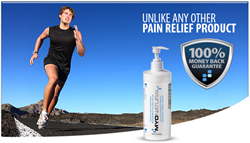 MyoNatural will join King Supplements line for pain management.
(PRWEB) July 13, 2013
The premium supplement supplier, King Supplements, is now selling the product MyoNatural. MyoNatural is an all-natural, anti-inflammatory cream that targets an array of pain-causing ailments. It is endorsed by many professional athletes, notably by professional football player and co-creator Tom Brady. MyoNatural will join King Supplements line for pain management, as well as their hot and trending product line.
MyoNatural has a patented delivery system that delivers its anti-inflammatory compounds directly to the ailing muscle tissue and joints. The ingredient complex (combination of ingredients) that achieves this is called Celaplex. It works by allowing the liposome composition (made up of phospholipids) to travel through the lipid (fat) layers of one's body, into the damaged muscle cells deep beneath the skin. The result of the product is not only relief from pain caused by injury and soreness, but also from chronic pain and arthritis.
In addition to MyoNatural and other pain management products, King Supplements offers a variety of specialized supplements. This includes supplements that target energy, performance, whole body health, endurance, and strength. Furthermore, they offer various beauty products, and products specially designed for individuals with diabetes.
For more information, visit http://www.kingsupplements.com/myonatural-16-oz.html