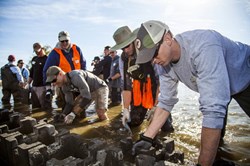 Arlington, VA (PRWEB) July 15, 2013
A new study by scientists at the Natural Capital Project says that natural habitats are critical to protecting millions of U.S. residents and their property from devastation by coastal storms.
And neglecting those habitats, say the study's authors, could double the amount of people at "high-hazard" risk, including hundreds of thousands of poor and elderly.
Published yesterday in the journal Nature Climate Change, the study offers the first comprehensive map for the entire U.S. coastline, of where and how much protection we get from these habitats — from sand dunes to oyster and coral reefs to sea grasses, mangroves and more — down to a 1-kilometer square resolution.
The study provides both a national and localized look at where restoration and conservation of natural habitats could make the biggest differences for people and property – at a moment when many coastal planners are considering their options for dealing with the impacts of sea level rise.
Extreme weather, sea-level rise, and degraded coastal ecosystems are placing people and property at greater risk of damage from coastal hazards. The likelihood and magnitude of losses may be reduced by intact ecosystems near vulnerable coastal communities.
With the release of the Obama Administration's Climate Action Plan on June 25th, there is renewed government interest in coastal resilience and climate adaptation planning, as well as finding natural solutions to protect America's coastline. Billions of dollars will soon be spent on restoration activities in the Gulf of Mexico and the Eastern Seaboard affected by Hurricane Sandy. Decisions can be made now to factor natural capital into decisions that could have a long-term benefit; and decisions not to do so may result in enhanced vulnerability in the long run.
Key findings from the study:

About 16% of the immediate U.S. coastline (within one kilometer of the shore) is classified as in "high hazard" areas—home to 1.3 million people and $300 billion in residential property;
Sea level rise will increase the amount of highly threatened people and property by 30-60% by the year 2100;
Florida, New York and California are the states where coastal habitats defend the greatest number of people (including the elderly and the poor) and the greatest amount in property values from storm risk.
67% of the U.S. coastline is protected by natural habitat — which, if lost, would double the number of poor families, elderly people and total property value in the areas at highest risk from coastal hazards such as storm surges.
"The natural environment plays a key role in protecting our nation's coasts," says Katie Arkema, lead author of the study and a Stanford University scientist working with the Natural Capital Project. "If we lose these defenses, we will either have to have massive investments in engineered defenses or risk greater damage to millions of people and billions in property."
Arkema says that the new data could be especially useful at state and county levels, in places such as Hillsborough and Monroe Counties in Florida and Kings County in New York, where natural defenses from reefs and dunes play critical protective roles.
"Hardening our shorelines with sea walls and other costly engineering shouldn't be the default solution," adds Peter Kareiva, chief scientist at The Nature Conservancy and one of the study's co-authors. "This study helps us identify those places and opportunities we have to keep nature protecting our coastal communities — and giving us all the other benefits it can provide, such as recreation, fish nurseries, water filtration and erosion control."
xxxx
The Nature Conservancy is a leading conservation organization working around the world to protect ecologically important lands and waters for nature and people. To date, the Conservancy and its more than one million members have helped protect 130 million acres worldwide. Visit The Nature Conservancy on the Web at http://www.nature.org/.