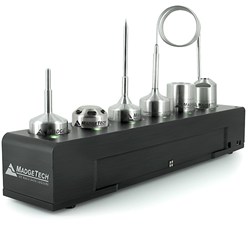 Warner, NH (PRWEB) July 15, 2013
The function and design of the IFC406 maximizes efficiency for any user measuring data with multiple data loggers. Stop, start and download multiple loggers simultaneously. Saving time by eliminating the need to connect and disconnect each individual data logger, allowing more time for analyzing the information.
The IFC406 is made of rugged anodized aluminum. Multiple units are easily connected together by placing them side by side, lining up the spring contacts and joining the devices together magnetically. This docking device is compatible with many MadgeTech data loggers measuring temperature, humidity, pressure or any combination of those parameters.
The IFC406 utilizes the MadgeTech software, version 4.0 to download and display information. The software is available to download free from http://www.madgetech.com. It is a powerful, analytic tool where data can be viewed in a graphical or tabular format. Summary and statistic views are also available for further analysis. The software features the ability to export to Excel®, data annotation, digital calibration and more. The IFC406 is priced at $549.00 USD. For more information please visit http://www.madgetech.com or call (603) 456-2011.