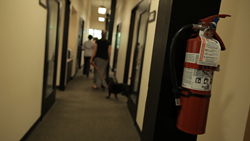 For all [pets] do for us, we always make sure we are doing everything we can for them, especially keeping them safe, happy, and healthy. -- Darryl Rawlings
Seattle, Wash. (PRWEB) July 15, 2013
Today marks the second annual Pet Fire Safety Day, declared by The American Kennel Club and ADT Security Services. Trupanion, a leading pet insurance provider in the United States and Canada, is celebrating by sharing best practices in workplace pet safety.
According to the National Volunteer Fire Council, fires affect half a million pets each year and nearly 10 percent of those pets do not survive. And The U.S. Fire Administration reports that July has the highest daily average of fires.
Trupanion has an ongoing commitment to best practices in pet-friendly workplaces, recently launching several resources for pet owners and businesses that are looking to move into a pet-friendly workplace. Part of this commitment is incorporating workplace pets into all office policies and procedures – from company picnics to the office fire safety plan. Trupanion's office fire safety plan was developed in collaboration with Seattle Fire Department officials and incorporates tips for ensuring protection, safe evacuations and communication with emergency personnel.
Trupanion's Pet Fire Safety Plan includes the following best practices:

Evacuation maps need to be available to everyone. Post them in every conference room, bathroom, kitchen and copy room.
It's important to stay calm and not panic. Pet owners should try to keep their pet as calm as possible.
If smoke and/or fire are detected, and the fire alarm has not sounded, locate the nearest fire alarm and pull it.
Calmly exit the building through the closest exit indicated on the evacuation map. Do not attempt to collect personal belongings. Pet owners should bring their pet with them, making sure the pet is on a leash at all times.
Pet owners should not attempt to retrieve their pet if they are not with them when the alarm sounds. Institute a "pet buddy" system – the pet buddy will evacuate their buddy pet if the owner is unavailable, or the fire evacuation team will evacuate pets left in the office.
Exit as quickly as possible so the fire department can perform rescue operations if necessary.
Conduct routine fire drills to ensure that these best practices become second nature.
"With 250 employees and more than 90 dogs and cats at our office, we realized that we needed a comprehensive fire response plan to protect our coworkers – both human and furry," said Darryl Rawlings, Trupanion Founder and CEO. "For all they do for us, we always make sure we are doing everything we can for them, especially keeping them safe, happy, and healthy."
For more tips and resources on pet fire safety, please visit Trupanion's Pet Fire Safety Page. To view a video detailing Trupanion's effort to develop its safety plan, please visit http://trupanion.com/blog/2013/07/trupanion-fire-drill-includes-office-pets/.
About Trupanion
Founded in 1998, Trupanion is a leader in pet insurance with the mission of being "un-insurance like" and delivering the best value in the industry. Trupanion offers cat and dog insurance in the United States, Canada and Puerto Rico and was the first pet insurance provider to offer no payout limits, coverage for hereditary and congenital conditions, and a vet direct-pay option. For more information call (800) 569-7913 or visit Trupanion.com. Follow Trupanion on Twitter or Facebook.