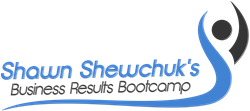 "It's All About the Results!" - Shawn Shewchuk
Calgary, AB (PRWEB) July 13, 2013
Indifference is a global killer and those entrepreneurs who do not innovate in their businesses will watch their business die a quick death. The difference between those entrepreneurs who prosper and those who do not is the effectiveness of their marketing. The entrepreneurs who refuse to implement innovative marketing strategies will be those who will see their businesses die and remain behind wondering why.
A tidal wave of opportunity has followed the post-recession economy and opened huge doors of prosperity for those small business professionals brave enough to walk through them. Most entrepreneurs are known for their willingness to take risk, ability to make quick decisions and their determination to be successful. Most are NOT known for their ability to market their business.
The Business Results Bootcamp teaches small business professionals the concepts and strategies that will mean the difference between thrive or die. The Business Results Bootcamp teaches entrepreneurs Marketing Innovation and reveals the following secrets of the most successful entrepreneurs:

Branding is more important the product.
Marketing Automation.
Avoid 'Business by Default'.
Become the authority instead of the expert.
"The Business Results Bootcamp is more than just a how-to" said Shawn Shewchuk, author of Change Your Mind; Change Your Results. "It is also about the who, what, when, where and WHY. This will be a game changer for small business professionals looking to get that edge in their business."
The Business Results Bootcamp will feature accomplished entrepreneurs and coaches including the 2012 winner of the Canadian Real Estate Wealth Maganazine's Joint Venture Partner of the Year Stefan Aarnio, bestselling author and speaker Frank Moffatt and recording artists The Moffatts.
"This bootcamp promises to be an event that you were glad you attended and that your competitors did not" says Stefan Aarnio. "So many entrepreneurs need the marketing innovation that will be taught at the Business Results Bootcamp."
The Business Results Bootcamp will be hosted at the Deerfoot Meadows Sandman, Calgary AB. on July 20-21, 2013. Admittance to the two day event has been reduced from $297 to $197 per person with a guest. Additional event information and registration can be found at http://www.businessresultsbootcamp.com.
About Shawn Shewchuk
Shawn Shewchuk is the #1 Results Coach in the Country, sought after speaker and bestselling author of the book Change Your Mind, Change Your Results. For over 20 years, Shawn has worked with companies and individuals providing opportunities for accelerate and improve results. Change Your Mind, Change Your Results. To learn more, visit http://www.changeyourresults.com.