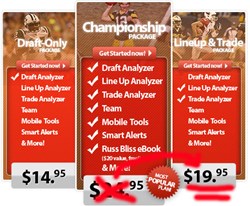 "We're excited to offer Russ's eBook at no cost to members who choose the Championship Plan in the next few days," says Jeff Coruccini, CEO of Fantasy Football Starters.
Phoenix, AZ (PRWEB) July 13, 2013
Fantasy Football Starters announced today it is offering the Championship Plan — including access to the popular draft, lineup, trade and team analyzers — plus free access to its "How to Win at Fantasy Football" eBook, for only $19.95 for a limited time. Sold separately, the software and the eBook retail for $45.00, meaning subscribers can save $25 if they purchase the special offer before time runs out.
"This is my third edition update to the eBook 'How to Win at Fantasy Football' and it's jam-packed with tips and tricks for 2013," says Russ Bliss, the company's NFL analyst and author of the eBook. "This year, I've made significant changes to Chapter 3, the General Guidelines for Drafting, because draft trends don't stay the same from season to season."
Bliss is a veteran NFL Analyst and nationally syndicated radio host, who has been playing fantasy football for more than 20 years, and has countless fantasy trophies to his name, including "experts league" championships. Since 1997, Bliss has hosted Phoenix-based radio prgoram -- "The Red Zone" -- one of the nation's longest continuous running fantasy football radio shows.
"We're excited to offer Russ's eBook at no cost to members who choose the Championship Plan in the next few days," says Jeff Coruccini, CEO of Fantasy Football Starters. "The strategy guide is a great foundation, and our Power Analyzer suite is the #1 industry rated software, helping our fans to win 80 percent of their fantasy football matchups every week."
Fantasy players with 2013 fantasy football drafts can use the fantasy football Draft Analyzer to input their own scoring system and create customized fantasy football cheat sheets for 2013 for each position.
Since 2004, the Power Analyzer suite of tools has delivered custom projections for more than 1.5 million fantasy team players based on 175,625 fantasy rosters analyzed. The software comes with a money back guarantee.
In addition to the Draft Analyzer, the Power Analyzer tools include:

Custom Weekly Fantasy Football Projections: personalized for each fantasy football roster, including NFL player stat predictions, updated 24/7.
Fantasy Football Sleepers: Personalized player email/SMS alerts on sleepers to draft, plus players to pick-up (or avoid) starting in season, due to last minute game time decisions.
Fantasy Trade Analyzer: The industry's first and best tool for analyzing any type
of fantasy football trade during the season providing analysis on both the impact to projected starting lineup each week the rest of the season along total roster strength. Unlike competitors trade calculators, Trade Analyzer tackles unbalanced trades and goes across any position.

NFL Game Predictions: Weekly game predictions on each and every NFL game throughout the entire NFL season.
About Fantasy Football Starters
Fantasy Football Starters is a premium online fantasy football site owned and operated by Ready-Set-Go Fantasy Sports (RSGFS), a new media digital sports content provider based in Phoenix, Arizona. Founded in 2004, RSGFS has also delivered premium fantasy content via licensing agreements with business partners including NFL PLAYERS INC., Sprint, AOL Sports, and others.
# # #