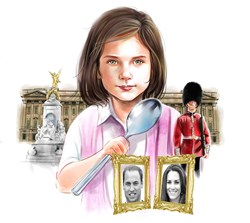 "We know that the royal heir will probably inherit Kate's brunette hair, given the predominance of dark genes,"
London, England (PRWEB UK) 13 July 2013
Now that we have seen every conceivable Frankenstein Photoshop morph of what Prince William and Kate Middletons's baby will look like, artists from the website Storyboards Online (http://www.storyboardsonline.com) have combined art and genealogy to produce professionally illustrated images of the couple's firstborn boy and girl as a toddler.
"We know that the royal heir will probably inherit Kate's brunette hair, given the predominance of dark genes," remarked Storyboards Online Illustrator Scott Ownbey. "William also inherited many of Princess Diana's facial features so thats a pretty good indication that the child could resemble the late Princess of Wales."
The images were drawn by hand on Wacom Cintiqs using illustration software Painter 12. the illustrations can be viewed on the Storyboards Online blog:
If it's a girl:
http://storyboardsandanimatics.tumblr.com/image/55297885373
If its a boy:
http://storyboardsandanimatics.tumblr.com/image/55297782527
About Storyboards Online
Storyboards Online was founded in 1999 in Los Angeles as an online resource for clients that seek to work remotely with exceptional storyboards artists using web enabled collaboration technology. Storyboards Online provides not only a high caliber of work, but a faster way of creating and delivering presentation boards, illustrations and key visuals.
For more information, press only:
In the US contact:
Scott Ownbey- 954 462.4000 ext 201
scotto(at)storyboardsonline(dot)com
In the UK contact:
Chelsie Sixsmith- +44 (0) 203.372.4013
chelsie(at)storyboardsonline(dot)com