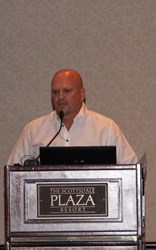 I believe by doing these events and screenings we are saving lives.
Phoenix, AZ (PRWEB) July 13, 2013
After getting over 160 NFL players treated, Pro Player Health Alliance (PPHA) has now been joined by many of them to help spread awareness on the deadly disorder obstructive sleep apnea (OSA). Joined with David Gergen, owner of Gergen's Orthodontic Lab and founder of the PPHA, they have been on a mission to "Tackle Sleep Apnea" nationally. According to a Mayo Clinic study, over 60% of the NFL and former NFL are suffering from OSA. Who better to speak and share personal stories to the public? The "Tackle Sleep Apnea" campaign was launched last year by PPHA and is still in full stride. Pro Player Health Alliance has taken the fight to the enemy with the new idea of teaming up with professional athletes to spread the word and it has paid off.
Roy Green has experienced two strokes and two heart attacks due largely in part to sleep apnea. Roy said, "If I had met David years ago, I wouldn't have had to experience having a heart attack, let alone two heart attacks and strokes. I am extremely grateful for what he's done for me and my former teammates and I'm glad to be a part of spreading awareness on sleep apnea so others don't have to to go through what I did." Sleep apnea stops you from breathing up to fifteen times an hour during the night while sleeping, putting serious stress on the body and the heart. According to the National Commission on Sleep Disorders Research, about 38,000 deaths occur in the US on an annual basis that are related to Sleep Apnea making it the "Silent Killer."
Roy's good friend and super bowl champion, Derek Kennard, has mutual feelings for the work Pro Player Health Alliance is doing. "If I had met Mr. Gergen four years ago, my brother would still be alive today," says Kennard. Roy and David are planning multiple events for the upcoming months where they are hoping to find an outpouring of support from the public with many people wanting to meet the players and eventually seek treatment for themselves and/or a loved one. While the event dates are to be determined, information about them can be found by visiting http://proplayersleep.com.
Mayo Clinic study can be found at http://mayoclinic.org.
National Commission on Sleep Disorders Research study can be found at http://www.nhlbi.nih.gov/.
About Pro Player Health Alliance
The Pro Player Health Alliance (PPHA) is an organization dedicated to helping former NFL players, through providing testing and treatment options for those who suffer from sleep apnea. In addition, the PPHA is dedicated to integrating education and raising sleep apnea awareness, in a fun and memorable way. In addition to the campaign, the PPHA is dedicated to testing and getting people treated.
About David Gergen
As President of Pro Player Health Alliance and Gergen's Orthodontic Lab, he has been a nationally respected dental lab technician for over 25 years. He received the award for "The Finest Orthodontic Technician in the Country" given by Columbus Dental in 1986. He also has been appointed chair of the dental wing of the American Sleep and Breathing Academy a national interdisciplinary academy dedicated to sleep training and education with over 60,000 members. He has worked for some of the pioneers in the orthodontic and sleep dentistry fields. One of his proudest achievements is receiving The National Leadership award for Arizona Small Businessman of the Year in 2004.