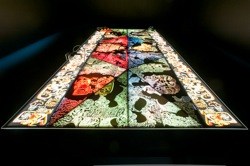 Combining the language of ancient and folk symbolism with modern technology.
Düsseldorf, Germany (PRWEB) July 15, 2013
The works of American artist Brenna Murphy (born 1986) are graphical and three-dimensional sculptures and reliefs that combine the language of ancient and folk symbolism with modern technology. Her computer-generated works are being shown in an ongoing exhibit at Düsseldorf's Kunstverein through September 29, 2013.
Murphy's works incorporate constantly and rapidly improving digital technology, such as graphic and design software, and room for artistic expansion. Many of the pieces have only been available for viewing online. The exhibit combines the pieces with musical instruments, sound installations and individual recordings by the artist, enhancing the works by combining ancient and modern sound and symbol language.
For more information, visit http://www.kunstverein-duesseldorf.de/en/exhibitions/current.html.
The city's tourism office is offering hotel and city specials for many of the city's art-related events throughout 2013, including the Brenna Murphy exhibit. The travel package called "Welcome2Art" can be booked right from the tourism office's website at http://www.duesseldorf-tourismus.de/nc/en/hotel-packages/hotel-package-welcome2art. Prices start at €58 per night per person based on double-occupancy for a 2-3 star hotel in the city center and at €93 per person for a 4-5 star hotel. All packages include breakfast, tickets for 2 permanent exhibits at Düsseldorf Museums (1 for Museum Kunstpalast, 1 for Kunstsammlung NRW/K20), a Düsseldorf Welcome Card (free public transportation within city limits, plus more than 40 free or reduced admissions to city attractions), a city information package, and 1 Merian city guide.
Düsseldorf Marketing & Tourism GmbH is the visitors and convention bureau of the city of Düsseldorf. Its responsibilities include tourism and city marketing, as well as conference and meeting marketing, hotel reservation services, fairs and convention services, city event ticket sales and advance ticket reservations. For more information, visit http://www.visitduesseldorf.de.
Düsseldorf Airport, Germany's Next Generation HubTM, offers several non-stop flights from US & Canadian cities (Atlanta, Chicago, Ft. Myers, Los Angeles, Miami, New York, Newark, Toronto), as well as convenient connections to many European cities. For more information about the airport, visit http://www.fly2dus.com and http://dus-int.de/dus_en/.