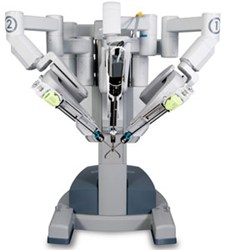 Alonso Krangle is currently offering free Da Vinci Robot lawsuit evaluations to victims who have allegedly been injured during Da Vinci Robotic Surgeries. Call 1-800-403-6191, or visit http://www.FightForVictims.com
New York, NY (PRWEB) July 14, 2013
Da Vinci Robot Lawsuit News: The Da Vinci robotic surgery complications lawyers at Alonso Krangle LLP note that Intuitive Surgical, Inc., the manufacturer of the Da Vinci Surgical System, has issued an Urgent Device Correction notice to its customers regarding some Da Vinci instruments that may not have been tested properly. Bloomberg.com reported on July 12th that the U.S. Food & Drug Administration (FDA) has deemed the June 27th notice a Class II recall. According to Alonso Krangle LLP, the notification marks the second time since May that Intuitive Surgical, which is already facing about two dozen Da Vinci robotic surgery lawsuits that allege serious personal injuries, has issued a safety notice regarding instruments used with the Da Vinci robot.
[ bloomberg.com/news/2013-07-12/intuitive-surgical-may-not-have-tested-devices-properly.html, Bloomberg, July 12, 2013 ]
FREE Da Vinci Robot Lawsuit Evaluations Offered By Alonso Krangle LLP
Alonso Krangle LLP is currently offering free Da Vinci robot lawsuit evaluations to alleged victims of Da Vinci surgery injuries, including surgical burns, torn blood vessels, excessive bleeding, tissue damage and wrongful death. To discuss a potential Da Vinci robot lawsuit claim with one of the experienced and compassionate Da Vinci surgery complication lawyers at Alonso Krangle LLP, please contact us at 1-800-403-6191, or visit our website at http://www.fightforvictims.com.
According to Bloomberg.com, the Urgent Device Correction notice Intuitive Surgical sent to customers in June affected about 30 devices which may not have been factory tested according to compliance standards. The devices named in the notice included the Da Vinci Si Vision System Cart, Si Surgeon Side Cart, Instrument Control Box and Dual Camera Controller. The issue required that 30 products be retested in the field, and none of the devices have been the subject of any complaints, Bloomberg.com reported.
According to Alonso Krangle LLP, this is the second time in less than two months that Intuitive Surgical issued a safety notice regarding devices used with the Da Vinci Surgical System. On May 8th, the company sent its customers a notice regarding EndoWrist monopolar cauterizing scissors that had the potential to cause surgical burns in some patients. Those devices have been redesigned, and replacements are being shipped.
[ cnbc.com/id/100726886, CNBC, May 10, 2013 ]
On May 30th, an FDA inspection of Intuitive Surgical's California headquarters prompted the agency to cite the company for, among other things, failing to inform the FDA of a warning sent to customers in October 2011 regarding problems with the robot. According to the FDA's 483 letter, Intuitive Surgical's 2011 warning was sent after it received 184 complaints regarding an issue which had resulted in Da Vinci surgery complications in some patients.
[ fda.gov/downloads/AboutFDA/CentersOffices/OfficeofGlobalRegulatoryOperationsandPolicy/ORA/ORAElectronicReadingRoom/UCM358468.pdf ]
26 Da Vinci Robot Lawsuits Pending
On April 19th, Intuitive Surgical disclosed that it had been named in 26 Da Vinci robot lawsuits, all of which allege that negligence on the part of the company resulted in serious Da Vinci robot injuries. According to an article published by Bloomberg.com in March, those reports include some 70 deaths among da Vinci patients since 2009. In January, the FDA began surveying doctors to determine if an increase in reports of Da Vinci injuries was a signal that there could be a problem with the technology, Bloomberg.com said.
[ sec.gov/Archives/edgar/data/1035267/000119312513162385/d508282d10q.htm, SEC Filing, April 19, 2013 ]
[ bloomberg.com/news/2013-03-05/robosurgery-suits-detail-injuries-as-death-reports-rise.html, Bloomberg, March 5, 2013 ]
Compensation may be available for victims of alleged Da Vinci robotic surgery complications. To find out if you qualify to file a Da Vinci robot lawsuit, please call one of the experienced and compassionate Da Vinci robotic surgery complications attorneys at Alonso Krangle LLP at 1-800-403-6191, or visit http://www.FightForVictims.com.
About Alonso Krangle LLP And Filing A Da Vinci Robot Lawsuit
Andres Alonso and David Krangle, attorneys with almost 40 years of collective legal experience, have focused their law practice on the handling of significant personal injury cases, defective drug and medical device litigation, construction site accidents, nursing home abuse, medical negligence, qui tam/whistleblower actions and consumer fraud cases. A dedicated law firm fighting for injured victims, Alonso Krangle LLP is headquartered in Long Island, New York, with offices in New York City, and New Jersey.
Alonso Krangle is currently offering free Da Vinci Robot lawsuit evaluations to victims who have allegedly been injured during Da Vinci Robotic Surgeries. To discuss a potential Da Vinci Robot lawsuit claim with one of the experienced and compassionate Da Vinci Robotic Surgery complications attorneys at Alonso Krangle LLP, please contact us at 1-800-403-6191, or visit http://www.FightForVictims.com