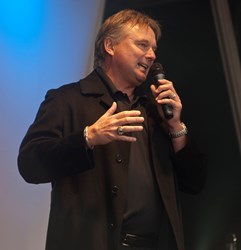 As a friend of Billy Cundiff, I am thrilled to be a part of such an important effort. Together, we will make a difference! Morten Andersen
Phoenix, AZ (PRWEB) July 14, 2013
Retired NFL kicking legend Morten Andersen, the NFL's all-time leading scorer, has joined Kicking For The Dream's effort to fight ovarian cancer according to NFL Kicker, and Kicking For The Dream founder, Billy Cundiff.
"Morten is one of the most respected kickers of all time. He had a career that most kickers can only dream of," says Cundiff. "During his playing days and now in his post-football life, Morten continues to give back. We are excited he is showing young specialists that the platform of football can be used to make a difference in the world. More importantly, he is a great man, and we are honored that he has chosen to support Kicking For The Dream."
Andersen says he is happy to support the efforts of his friend Billy Cundiff.
"The Morten Andersen Family Foundation is happy to support Kicking for the Dream," says Andersen. "As a friend of Billy Cundiff, I am thrilled to be a part of such an important effort. Together, we will make a difference!"
Go here for Morten Andersen's Kicking For The Dream page.
According to Andersen, the purpose of the Morten Andersen Family Foundation is to affect positive change among children and youth locally, regionally, nationally and globally. He says the ideology behind the foundation is:
1) To those much is given, much is expected.
2) Pay it forward to the next generation.
3) Affect positive change among people regardless of race, sex, religion or nationality.
Andersen says the areas of emphasis and focus of the Foundation are:
1) Education and scholarships
2) Quality of life initiatives for children and youth
3) Quality of life initiatives for servicemen and women
Go here to learn more about the Morten Andersen Family Foundation.
ABOUT MORTEN ANDERSEN
Morten Andersen, nicknamed "The Great Dane", retired in from the NFL in 2008 and holds the distinction of being the all-time leading scorer in NFL history. His career distinctions include:
NFL records:
•Most points career - 2,544
•Most games played – 382
•Most consecutive games scored – 360
•Most field goals – 565
•Most field goals attempted- 709
Second place in the following NFL records:
•Most PAT's attempted (career) - 859 (1st- George Blanda, 959)
•Most PAT's made (career) - 849 (1st- George Blanda, 943)
•Most FG's (50 or more yards) in a career - 40 (1st- Jason Hanson, 41)
•Most seasons - 25 (1st- George Blanda, 26)
•Most seasons-100 or more points - 14 (1st- Jason Elam, 16)
Pro Bowl records:
•Most points – 45
•Most PAT's - 15
•Most FG's – 10
•Most appearances by a kicker-7
Team scoring records *
•New Orleans Saints- 1,318 points
•Atlanta Falcons - 806 points
*Only player to hold franchise scoring record for two NFL teams.
Honors:
•Three time All Pro (1st Team)
•Seven time Pro Bowl
•1986 and 1995 Golden Toe Award
•NFL 1980's All-Decade Team
•NFL 1990's All-Decade Team
•New Orleans Saints Hall of Fame
•Walter Camp All-Century Team (college)
Go here for more about kicking great Morten Andersen.
ABOUT KICKING FOR THE DREAM:
Billy Cundiff, who has been an NFL kicker for over 10 years for teams such as the Cowboys, Saints, Browns, Ravens and Redskins, launched Kicking For The Dream in May of 2013, as an effort to support Colleen's Dream Foundation, a foundation which raises money to support research for the early detection of, and improved treatment for, ovarian cancer.
ABOUT COLLEEN'S DREAM FOUNDATION:
Colleen's Dream Foundation started in 2012 and supports research for early detection and improved treatment for ovarian cancer.
The story of Colleen's Dream started in 2007 when Billy Cundiff's mother-in-law, Colleen Drury, was diagnosed with late-stage ovarian cancer. It was only then that Colleen and her family realized a new world that was filled with invasive surgery, harsh chemotherapy, and lots of uncertainty.
Ovarian cancer is often referred to as "the silent killer" because many women do not discover their disease until it is in the late stages, which leads to many women succumbing to the disease within a short period of time. Unlike cervical or breast cancer, ovarian cancer does not have a standardized early detection procedure. When
it comes to women's health, ovarian cancer proves to be one of the deadliest diseases.
Colleen's Dream Foundation believes it is important to raise money for research that will lead to reliable early detection testing and improved treatment for ovarian cancer. Because so little is known about ovarian cancer in proportion to other women's health issues, we have an incredible opportunity for research and education.
Colleen's Dream is working with some of the top research hospitals and universities that are researching ovarian cancer. By offering seed funding to young investigators, the Foundation funds cutting-edge research by some of the brightest, young minds in the world.
Colleen's Dream Foundation is a qualified 501 (c)(3) tax exempt non-profit organization based in Phoenix, Arizona.