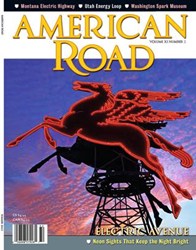 Detroit, Michigan (PRWEB) July 15, 2013
Grab a Camera. On this Journey, Prepare to Find Fanciful Figures that Chase Away the Dark.
The Summer 2013 issue of American Road celebrates illumination—beginning with a road designed to bring sizzle to Big Sky Country. "Electric Highway" tells the tale of its titular road, a Montana auto trail named in 1920 after the amped-up trains of the Chicago, Milwaukee, St. Paul & Pacific Railroad. Today, travelers can still follow this old route between Forsyth and Missoula, Montana, chasing tracks that clack past the soaking waters of White Sulphur Springs, the workshop of a Ryegate man who makes a living carving woodpeckers, and a trio of fiery salamanders writhing atop the Atlas Block in downtown Helena.
"I Sing the Roadside Electric" is a tribute to light twisted with gas and glass. Across US Highways 2, 10, 50, 66, and others, American Road visits one hundred masterpieces of the neon signmakers' art. Here are gleaming giants: Nevada's Wendover Will, South Carolina's big Pedro, and the prodigious, pouring coffee pot of Roanoke, Virginia. Here, too, are a red-hot dachshund, an enlightened Buddha, and other fanciful figures that chase away the dark.
A light can save a coal miner's life—a lesson learned in "Energy Loop Scenic Byway," as we follow a route that honors the men and the mines that brought Utah fame. Elsewhere in this issue, readers will find news of the World's Biggest Lite-Brite; the glowing afterlife of the La Concha Motel of Las Vegas; and Washington State's Spark Museum. American Road visits The Franklin Institute of Philadelphia to remember the inventor who flew a kite during a thunderstorm, and stops by Thomas Edison National Historical Park of West Orange, New Jersey, to pay tribute to the man who kept those little bulbs burning in the distance.
May the memories made during this summer's travels shine brightly, and may there be magic in every mile.
American Road® is an award-winning periodical published quarterly by Mock Turtle Press, distributed internationally by Disticor, and now available at newsstands and fine bookstores.