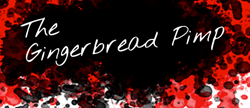 a wry, unflinching look at the inner workings of emotional abuse.
New York, New York (PRWEB) July 17, 2013
Meet the hot new Writer / Composer Team, Molly Reynolds and Will Collyer, who are turning heads in both Los Angeles and New York. They are the creators of The Gingerbread Pimp, a brave new musical that tackles the difficult subject of domestic abuse with satirical comedy and an unforgettable pop rock score.
Based on a true story, The Gingerbread Pimp is a wry, unflinching look at the inner workings of emotional abuse told through the eyes of a once vibrant young woman. Living in a very real and often dangerous world of manipulation and extreme control, it is the story of Coco's reawakening and battle for freedom of mind.
The show is being presented at the prestigious New York Musical Theatre Festival, featuring a cast of Broadway veterans that includes Reed Armstrong, Ally Bonino, Colin Hanlon, Siera Rein, and Emily Thompson. Survivors of domestic abuse have been invited as special guests of the creators to give personal feedback so that this story may be told most effectively.
All performances will take place at The Studio at Theatre Row, located at 10 West 42nd Street, New York NY 10036. Performances are Thursday, July 18, 2013, at 3:00 p.m. and 7:00 p.m. and Sunday, July 21, 2013, at 1:00 p.m. For ticket information, please visit http://www.NYMF.org.
Molly is also an expert at hopeafterdivorce.org, a digital magazine dedicated to providing resources for individuals embarking on one of life's most difficult journeys. For more information about The Gingerbread Pimp or hopeafterdivorce.org, or to schedule an interview with Molly Reynolds and Will Collyer, please call (818) 749-6089 or email info(at)GingerbreadPimp(dot)com.