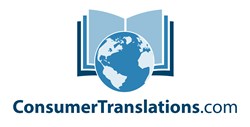 The key question: "Why is translation used so little?" We've answered that question and solved the problem.
Marlboro, Massachusetts (PRWEB) July 18, 2013
An entire translation project can now be fully implemented – including translation and online delivery to all targeted language populations – with only 15-30 minutes of client time required. Key customers will include Sales, Marketing and Customer Relations departments. Consumer Translations is currently focused on internet-based communications; soon another innovation will provide online translation access to readers of print and display media.
This turnkey translation-and-delivery service features web-posted translations maintained online, where consumers can use hyperlinks to self-access their translation of choice. Hyperlink use is well understood globally, and gives immediate access to translations of all kinds.
THE EUROSCRIPT® PARTNERSHIP
To ensure the best possible translation quality, Consumer Translations and euroscript international S.A. have joined together in a translation partnership: unless specifically requested otherwise, all translation work will be outsourced to euroscript®. Clients will benefit from both both highly-qualified professional translators (DIN EN 15038 qualified), and from their ISO 9001:2008-certified Quality Control processes. And all translators are native speakers of the target language. For more details, go to http://www.euroscript.com.
Working together, euroscript and Consumer Translations bring major cost and resource savings for multilingual marketing, customer support, business forms and other materials. Consumer products, banking, insurance, manufacturing, medical industries and other industries will benefit from this 21st century approach to communicating with multilingual markets.
CONVENIENCE FOR COMMUNICATORS
For those who have used translation in the past, including many who rejected it, its internal resource cost was high. The Consumer Translations approach requires none of those costs or investment. Consumer Translations becomes their clients' dedicated I.T. department for translation projects - a simpler and easier way.
A key advancement is that the entire process is done without need for client staff involvement beyond translation approval. The traditional approach of multiple mailings, one for each language, is now outmoded. This new process reaches all prospects, whatever their language, with a single e-mail communication.
Richard Tamir, founder and CEO, commented: "The key issue about translation is how little it is used. This is due to the high levels of client effort involved, particularly for delivery. We offer, for the first time ever, a full-translation-cycle service. This reduces our clients' total translation cost, and ends the need for coordination between the requesting department and I.T." Tamir noted that there is also a "Delivery Only" option for companies with pre-existing translations, enabling improved distribution and better penetration.
CONVENIENCE FOR CONSUMERS
The Consumer Translations logo (see attachment with working examples) conveys a simple message: "Translations Available". To a foreign language reader, it means "I can read that!" Until now immigrants, expatriates and other groups were effectively excluded from societies where they lived. Now they can access advertising, fill out business forms, enter into contracts and conduct many other transactions previously unavailable to them.
INVITATION TO TRANSLATORS
Consumer Translations invites translators to contact them to arrange web-posting for their translation projects. They will work with other translation firms on translation-and-delivery projects, expanding the total translation market. Consumer Translations does no translation work itself – rather, they focus on simplifying the translation experience for client and end-readers. Total global translation volume has been independently predicted to increase by 20% or more within five years through use of this simplified approach.
BUSINESS FORMS TRANSLATION & ORGANIZATION
Insurance, banking and other forms will be major applications of these services. Hyperlinks distribution simplifies forms organization, updating and access for both customers and internal staff. Keeping track of paper forms can be an enormous task, especially when updating. But with hyperlink distribution, a single screen can provide access to different forms in different languages. Updating is simple, and hyperlinks will always access the most current version. Commented Tamir, "It's the perfect solution for the California retail translations law." A mortgage banking example is shown at the Consumer Translations website, under "Forms & Contracts".
MARKET PENETRATION
Market penetration always increases with translation – but it was always limited by the size and accuracy of language-tagged databases. Now a single communication reaches everyone in a standard mail database, without need for language-tagging. The consumer just clicks on a hyperlink to access the translation they want. With this approach, all targeted language groups can be easily reached, and at lower total cost.
FOR FURTHER INFORMATION, go to http://www.ConsumerTranslations.com/. Questions can be sent via e-mail to CEO(at)ConsumerTranslations.com.