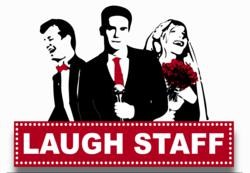 Cleveland, OH (PRWEB) July 18, 2013
Earlier this week, Laugh Staff, the company that writes and edits best man speeches, announced they would like to help clients by grading speeches for free. Laugh Staff decided to use Facebook as a vehicle to attract attention to this new service, but this time, instead of using a traditional advertisement, they are seeking help from their fans on Facebook.
For every like and share the Laugh Staff post receives for the Grade Your Speech post they made on Friday, they will donate to the Wounded Warrior Project. A like will provide a donation of $1 and a share will be worth a donation of $5.
"We thought about buying a regular ad on Facebook, but then we thought, why spend money on an ad when we could donate the money to a good cause and still get promotion from friends on Facebook," said Laugh Staff co-founder Cameron Amigo. "Our dream is that this concept takes off and more companies on Facebook do the same thing."
The goal is to raise $500 for the Wounded Warrior Project. As of Wednesday, July 17, Laugh Staff has received 30 likes and 29 shares and has reached $175 so far. Once Laugh Staff has earned enough likes and shares to equal $500, they will make the donation and end the promotion.
"We want everyone to be aware of our new service, but we also really want to make a difference and use our money for a good cause instead of advertising," said Laugh Staff co-founder Josh Womack.
For more information about Laugh Staff Inc. and their speech writing services visit http://www.laughstaff.com or email info(at)laughstaff(dot)com.
About Laugh Staff:
Laugh Staff, Inc. was founded in 2012 by a team of comedians and writers in Cleveland, Ohio. Laugh Staff helps their clients with best man speeches as well as providing best man speech examples on their blog. They assist best men and maids of honor in speech-editing, speech writing, and provide training on speech delivery. Recognizing the importance of the big day, Laugh Staff's professional comedians work with best men and maids of honor to ensure they make a lasting impression.