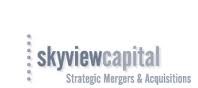 Los Angeles, CA (PRWEB) July 15, 2013
Skyview Capital LLC today announced that it has completed the acquisition of the Mimio ® and Headsprout ® interactive technology businesses from Newell Rubbermaid (NYSE:NWL).
Founded in 1997 and headquartered in Cambridge, Mass., Mimio is a global leader in interactive teaching technologies offering innovative, affordable educational technologies and curriculum solutions to increase effectiveness and engagement in K-12 classrooms.
Alex Soltani, chairman of Skyview Capital LLC, says of the transaction, "We are very excited about adding Mimio to the Skyview portfolio. We see tremendous potential in both the education technology and curriculum segments. Mimio has cutting-edge technologies to enhance the learning experience for students around the world."
Mimio's General Manager, Manny Perez, stated, "Skyview has a deep understanding of and experience in the technology industry and sees the value Mimio has to offer. The firm has a proven track record of helping companies increase in value, and we are confident that the Mimio business will benefit from this expertise as we continue to fulfill our mission of offering innovative and relevant instructional technologies."
Mimio's technologies include the recently launched MimioMobile™ app and its MimioStudio™ classroom software. These two new programs give teachers the ability to create truly collaborative learning environments using mobile devices in their classrooms. The MimioSprout™ and Mimio Reading™ online instructional reading programs provide schools and homes broad and effective lessons to teach reading to students in pre-K through eighth grade. The complete MimioClassroom™ suite of interactive technologies and instructional software are used in more than 600,000 classrooms worldwide.
The transaction has closed; terms were not made public.
About Skyview Capital LLC
Skyview Capital LLC is a private investment firm headquartered in Los Angeles, California, which specializes in the acquisition and management of "mission critical" enterprises in the areas of technology, telecommunications, business services and niche manufacturing. By leveraging its operational capabilities and financial acumen, Skyview systematically enhances the long-term sustainable value of the businesses it acquires.
To date, Skyview has successfully completed nearly 20 transactions within its target market verticals and was recently recognized by Los Angeles Business Journal as one of the top 25 Los Angeles-based private equity firms.
# # #