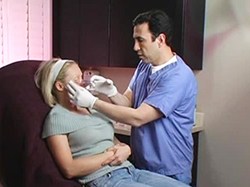 Los Angeles, CA (PRWEB) July 15, 2013
According to a July 9, 2013 ABC News article, titled "Reduce Wrinkles While You Sleep: New Pillow's Promise," expression wrinkles are a well-known sign of aging. Considering that people spend a third of their lives with their faces pressed into a pillow, it stands to reason that pillows can cause the formation of sleep lines. Because these lines are not caused by muscle contractions, they can't be effectively treated with plastic surgery or Botox injections. As long as there are no effective remedies for this common condition, the best way to combat sleep wrinkles is through prevention (Go to goo.gl/ekXx7).
"I haven't had an opportunity to test the pillow myself, so I can't offer any endorsement of the design," says Dr. Simon Ourian, Medical Director of Epione Beverly Hills. "If it works as promised, it may help reduce or prevent sleep wrinkles."
According to the article, a new development aims to eliminate the cause of sleep wrinkles altogether: pillows themselves. The result is JuveRest: a re-invented pillow design, constructed to allow a person the full range of sleep positions while reducing pillow contact to a minimum. The invention is simple, acting as a soft cradle that supports the head gently at the base of the chin and at the forehead.
The report goes on to say that other specialized pillows often prove ineffective because they are small and easily pushed aside or scrunched up. JuveRest combats this tendency by providing a long and sturdy head rest. The area at the center of the pillow is concave providing gentle head support when sleeping face up. On the left and the right are low soft bars that support the sleeper at the hairline and chin. The rest of the face is left entirely free from pillow contact.
"I'll wait to see if they provide documented results," says Dr. Ourian. "In the meantime, we can treat sleep wrinkles with dermal fillers such as Juvéderm and Restylane."
Dr. Ourian has been a pioneer in laser technology and non-invasive aesthetic procedures including Restylane, Juvéderm, Radiesse and Sculptra. These treatments are used for the correction or reversal of a variety of conditions such as acne, acne scars, skin discoloration, wrinkles, stretch marks, varicose veins, cellulite, and others. More information on this new wrinkle treatment can be found on Epione's website.