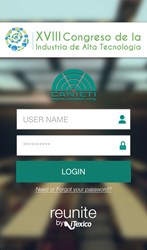 With Reunite we are bringing social interaction during the event to a whole new level thanks to mobile technologies," said Guillermo Ortega, COO of iTexico and Head of Operations in Mexico.
Austin, TX (PRWEB) July 15, 2013
iTexico, a nearshore mobile development company based in Austin with a strong presence in Mexico, has been selected as the provider of a specialized conference app for the XVIII Conference for the High Tech Industry in Mexico. (Congresso de la Industria de Alta Technolgia). This is an international event focused on technology, electronics and innovation. iTexico's specialized mobile application is called Reunite. Reunite will allow real-time interaction between attendees and speakers during the conference.
"We are very pleased by this choice and it's always a great experience to participate in events like this where we can interact with the business and technology community in Mexico and other places, it's a very enriching experience. I'm fascinated about how rapidly the technology industry in Mexico has grown in recent years. We've chosen Guadalajara to establish our Delivery Center and locate all of our development force in mobile technologies like Appcelerator Titanium, Xamarin, IBM Worklight, and mobile native languages. iTexico also provides backend, design and testing services. We are pleased to be the official mobile app developer for this important international conference," said Anurag Kumar, Founder and CEO of iTexico, who will be attending the conference.
The mobile application is named Reunite and branded as "a place to gather everyone" and built for Apple's iOS devices including the iPhone and iPod. The mobile app will be available for free to download from Apple's App Store in late July. Reunite, the iTexico mobile app, will provide real-time communication between attendees, connection to social networks, and extensive information about the conferences, speakers and the venue. The application will be used throughout the conference as well as at networking events and meetups.
"I've been part of the CANIETI for more than a decade and it's always exciting to proudly represent the Mexican community of entrepreneurs in this sort of events. The attendees and speakers are always amazing and I look forward to see what they have in store for us this year. We are also very proud to collaborate with the IT Chamber and present our Reunite mobile app to have everyone interacting with each other when the conferences take places. With Reunite we are bringing social interaction during the event to a whole new level thanks to mobile technologies," said Guillermo Ortega, COO of iTexico and Head of Operations in Mexico.
Anurag and Guillermo will be attending to the event to discuss topics related to mobile innovation, the state of mobile development in the US and Mexico, as well as business opportunities for local and international companies when using the nearshore outsourcing model in countries like Mexico.
The Conference, organized by the Western Chapter of Mexico's National Chamber of Electronics and Information Technologies (CANIETI), is expected gather an international community of government officials as well as high level industry executives from electronics, manufacturing, multimedia, information technologies sectors. The main purpose of the event is to share ideas, look for strategies and actions to create synergies, increase innovation, discuss important developments, and incentivize trade between Mexico and other countries.
CANIETI is Mexico's nationwide institution in charge of incentivizing progress and development within the electronics, technology, manufacturing and other key industries in Mexico. This is the 18th time that the Conference will take place. This conference will take place in Puerto Vallarta and the Nayarit Riviera on August 8th though the 11th. iTexico will also be providing additional sponsorship support.
The Reunite mobile application was developed by the iTexico team located in the nearshore delivery center in Guadalajara Mexico using Appcelerator's Titanium cross-platform mobile development technology to natively run on iOS devices.