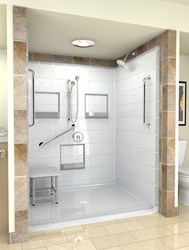 Handicap showers with left, right and center drain configurations.
Denver, CO (PRWEB) July 15, 2013
A leading supplier of senior bathing products announces they will now offer wheelchair accessible handicap shower systems with center drain configurations. The company will still carry left and right drain configurations as well for their deluxe roll in shower line.
The low step in features make these specialty bathing products an ideal option for the disabled or the elderly. Being able to bathe independently sometimes can be taken for granted; however for some people this simple luxury is not an option. One of the company's core values is providing people that have mobility restrictions, unique options that can potentially help them bathe more independently.
Features found on these senior bathing products are astonishingly simple yet functional. Several of the products have 12", 24" and 36" safety grab bars. This alone may help a bather with stability and support when entering a bathtub or shower. In addition, there are numerous handicap bathtubs that the company offers that come with built in seats. The wheelchair access roll in showers even have padded seats with legs that can fold up to create additional room in the shower when not being utilized.
The elderly are increasingly looking for ways to improve their independence and successfully age in place. Being able to easily locate the best resources for seniors many times is an essentiality. There are numerous technologies on the market today that are specifically designed with the aging population and disabled in mind. Fortunately walk in tubs with hydrotherapy can be installed into most residential locations without the requirement of a major remodel. Retrofit installations do sometimes need minor tile work, trim work and door widening.
Several of Aging Safely's wheelchair access showers and step in bathtubs can also be installed into commercial locations such as nursing homes, assisted living facilities, hospitals and physical therapy offices. Furthermore, the company offers specialty bathing products which carry third party certifications. It is important to keep in mind, not all walk in bathtubs on the market can pass the quality assurance standards that are required to receive a pressure seal door certificate. While there is no such thing as a perfect product or company, Aging Safely Baths is a customer focused organization that prides itself on providing clients with the best products and services available.
Contact Information:
Zach Wennstedt
1-888-779-BATH(2284)
info(at)Agingsafelybaths(dot)com
http://www.Agingsafelybaths.com