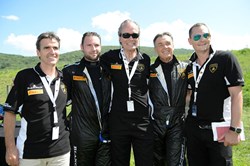 These amazing cars are meant to be raced, so it's a great pleasure to take part in the series.
Beverly Hills, CA (PRWEB) July 15, 2013
The opening round of the all-new Lamborghini Blancpain Super Trofeo Series brought victory for the racing partnership of Lamborghini Beverly Hills and Global Motorsports Group (GMG). GMG drivers Lee Davis and Ryan Eversley, with multiple GRAND-AM and Pirelli World Challenge wins between them, drove the No. 33 Luna-C Racing Lamborghini Gallardo LP 570-4 Super Trofeo to its first place finish. The No. 69 Isoclima Lamborghini driven by Lamborghini Beverly Hills Owner Tom O'Gara and Brand Manager Parris Mullins also finished in the top ten. Both cars are owned by Lamborghini Beverly Hills, run with the support of GMG, to demonstrate how fun and accessible genuine race experiences can be for Lamborghini owners.
Davis and Eversley chose to split driving duties during the race, with Davis taking off to a solid start during the opening minutes. After focusing on maintaining the car and keeping a steady pace, Davis came in prior to the halfway point to hand the car over to his long-time co-driver Eversley for the finishing duties. Coming out of the pits with nearly a 30-second gap to make up, Eversley performed masterfully, eventually taking the lead and never looking back. Said Eversley, "It was really awesome to win the first-ever North American Lamborghini Blancpain Super Trofeo race. Lamborghini Beverly Hills and GMG did a great job putting this program together."
The No. 69 Isoclima Lamborghini driven by Mullins and O'Gara took eighth overall. "I'm thrilled with our debut," stated Mullins. "The racing was really competitive this weekend with a high level of talent so I was pretty pleased with how we finished, and Tom and I are really enjoying the experience so far. GMG has done a great job delivering a solid race car for this exciting series Lamborghini has brought to North America." O'Gara added, "These amazing cars are meant to be raced, so it's a great pleasure to take part in the series. Experiencing the full potential of a Lamborghini is something we want for all our owners, so we look to make these opportunities happen." The O'Gara Coach Company's presence at the historic race signals the dealership's increasing involvement in the motorsports arena.
O'Gara Coach is developing support packages for Lamborghini Beverly Hills' clients who want to participate in the Super Trofeo Series. The next stop in the series is the Kansas Speedway in Kansas City from August 17-18, with subsequent races in Calabogie, Canada; Alton, VA; and Fontana, CA. The series champions will travel to Vallelunga, Italy to compete against winners from the Asian and European Super Trofeo in a World Final this November. The Lamborghini Beverly Hills / GMG cars will continue to compete across North America in the remaining races of the series.
About Lamborghini Beverly Hills, an O'Gara Coach Company
There are many ways down the road of life. The O'Gara Coach Company offers a journey that begins with a bespoke buying process and accelerates through exclusive access to a world of thrilling experiences. Along the way our exceptional service team is always there to ensure you never slow down. Clients of Lamborghini Beverly Hills choose a lane that leads to unique driving opportunities and celebrations of an unparalleled racing heritage. Where your road leads is up to you, but the O'Gara Coach Company will see that you arrive in the style you deserve. http://www.ogaracoach.com/
About GMG
Founded in 2001 by James Sofronas and Fabryce Kutyba, GMG has quickly established itself as North America's premier performance tuning and racing facility. What began as a small 1200 sq. ft. shop, maintaining two race cars, has grown into a 30,000 sq. ft. state-of-the-art performance tuning, racing and service facility located in Santa Ana, CA. The staff's experience, attention to detail, and passion are what make GMG the choice of professionals and enthusiasts world wide. Whether you want to maximize the performance of your street car, or race wheel-to-wheel on both amateur and professional racing series across North America, GMG's reputation for service and quality is unmatched. http://www.gmgracing.com