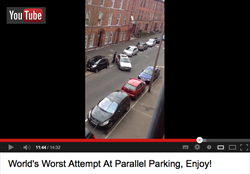 It is important that people develop driving skills for life, not just to pass a test.
Sydney, NSW (PRWEB) July 18, 2013
Last month almost 4.5 million people watched an online video of an Irish woman who still couldn't master reverse parallel parking after half an hour of trying but if she had downloaded the Driving Lessons+ app she could have saved herself both time and embarrassment.
Driving Lessons+ was developed by Platinum Driving Tuition's Adam Birdle as a tool to help drivers with some of the trickier road manoeuvres. Mr Birdle said that the idea for the app came after his years as an accredited driving instructor showed highlighted the pressure areas that learner drivers, their teachers and even seasoned drivers struggle with.
"In my business, I often get learner drivers who have already started learning how to drive with their parents or other family members coming to me for help with parking or some of the more technical driving manoeuvres," Mr Birdle said. "While a combination of real world practical experience and professional lessons is a great formula for getting the experience they need to be safe on our roads, it is important that people develop driving skills for life not just to pass a test and the more you practice something, the easier and more natural it becomes," he added.
"Driving Lessons+ is a free app that provides interactive, step by step instructions, videos and troubleshooting tips that is ideal for people learning to drive, their home based instructors and licensed drivers who need to brush up on their skills. The app gives two different methodology options, because what works for one person doesn't necessarily work for another, and provided drivers are obeying the road rules, there is usually more than one way to successfully do a driving move."
Mr Birdle said that the first tutorial focuses on reverse parallel parking, with more tutorials covering angle/reverse angle parking, three point turns and more under development for the next update.
"We wanted to start with one key focus area and make sure we got that right. We currently have a 5 star rating on iTunes with feedback from people saying how much Driving Lessons+ has helped with their driving. We are working on developing the app so that it is a complete driving test guide so that people aren't just learning how to pass the test, but how to be competent and safe drivers for life," he said.
Driving Lessons+ is available for free download and is available for iPhone, iPad and Android users.
https://itunes.apple.com/au/app/driving-lessons+/id647773842?mt=8#