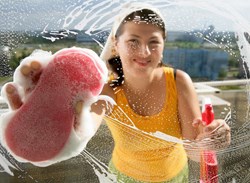 (PRWEB) July 16, 2013
In an article released July 7 in the Idaho State Journal a study by the city of Federal Way, Washington, found that "residential car washing led to numerous pollutants being released each year into the city's storm sewer system, including 190 gallons of gasoline, diesel and motor oil; 400 pounds of phosphorus and nitrogen; and 60 pounds of ammonia." These numbers are for one small town – multiply by almost 5000 to get the numbers for all of North America and one can see the tremendous negative impact these chemicals can have.
In fact, according to the U.S. Environmental Protection Agency, nitrogen, phosphorus, and volatile organic compounds (VOC's) such as ammonia are the worst environmental hazards in household cleaners. (Ref. 1) Dishwasher detergents are 30 to 40 percent phosphorus, according to the Canadian Labour Environmental Alliance Society. (Ref. 2) Ammonia and other VOCs are found in many multipurpose household cleaners such as bathroom cleaner, as well as both dish and laundry soaps. Pro-Tek Chemical reports that many products intended for removing allergens, degreasing, disinfecting and sanitizing contain ammonia. Nitrogen is commonly found in glass and surface cleaning products, as well as floor cleaners. (Ref. 1) Bleach and other phosphates raise environmental concerns as well. Some of these ingredients have been identified as carcinogens or reproductive toxins, while others are endocrine-disrupting chemicals affecting both humans and wildlife.
Problems In The Water
Nitrogen, phosphorus and ammonia are dangerous water contaminants and they are commonly rinsed down drains and flushed down toilets as families clean the house. Most pollutants are removed from the water by the waste treatment facilities before the water is returned to the rivers, streams, lakes and other waterways. However, nitrogen, ammonia and phosphorus are not removed by waste treatment processes. Instead, they enter the waterways and build up, creating many problems for wildlife. (Ref. 3)
Problems For The Air
While many household cleaners enter the water supply, others affect air quality. VOCs create potential health hazards by concentrating inside the household air. If windows are opened to ventilate while cleaning, the pollution goes outdoors. According to the EPA, VOCs contribute to smog, and the pollution is so severe in some areas that legislation to ban or restrict the amount of VOCs in household cleaners became necessary. (Ref. 5) For example, California's Air Resources Board has set acceptable limits for these chemicals in the California Consumer Products Regulations. (Ref. 6)
Alternatives For Consumers
Cleaning and home maintenance products are a multi-billion dollar industry in the U.S and the huge selection of products available on the retail shelf often makes it difficult for consumers to know what is safe to buy. (Ref. 7) Pro-Tek Chemical helps answer a few simple questions. The EPA has created standards for themselves to follow when making purchasing decisions. (Ref. 8) Some items on their list include:

Minimal presence of potentially harmful chemicals, such as corrosive or strongly irritating substances; substances classified as known or likely human carcinogens or reproductive toxicants by authorities such as the National Toxicology Program, the U.S. EPA, the International Agency for Research on Cancer or the State of California
Use of renewable resources, such as biobased solvents from citrus, seed, vegetable, pine oils
Low VOC content
Biodegradable
Designed for use in cold water in order to conserve energy
Concentrated formulas with appropriate handling safeguards
Efficient packaging (e.g., light weight, reduced volume)
Pump sprays rather than aerosols
More About Pro-Tek Cleaners
Pro-Tek Chemical produces and sells a powerful, concentrated, eco-friendly cleaner that contains no phosphates, toxins, bleach, VOCs, acids, SLS, SLES, Butyl, ammonia or solvents so it is safe to use indoors and out, around pets and children. The product is highly concentrated which equates to fewer packaging materials, less fuel for transportation and therefore a reduced carbon footprint. Pro-Tek is a multi-use product and can be used on virtually all solid surfaces as well as clothing, vinyl and carpets so it can replace many common household cleaners.
Pro-Tek Chemical is based in Glenns Ferry, Idaho, where the product is produced, packaged and distributed. Over 2 million customers have purchased Pro-Tek Cleaner since the company began in 1985. They boast an A+ rating with the Better Business Bureau.
References
1 EPA: Greening Your Purchase of Cleaning Products -- A Guide for Federal Purchasers
2 Labour Environmental Alliance Society: Toxins in Household Products
3 EPA: Water Quality Criteria -- Nutrients
4 Pennsylvania Department of Environmental Protection: Know Your Nitrogen
5 EPA: An Introduction to Indoor Air Quality
6 California Environmental Protection Agency Air Resources Board: The California Consumer Products Regulations
7 http://leas.ca/Toxins-in-Household-Products.htm
8 http://www.epa.gov/epp/pubs/cleaning.htm