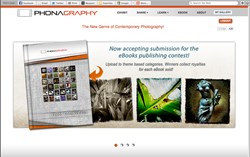 The website model was designed to ideally harness the power of 5 billion-cell phone users worldwide into a unified mobile alliance.
(PRWEB) July 15, 2013
David Hoptman founder of Phonagraphy.com searches for tech savvy investors or entrepreneurial tech oriented groups looking to purchase a unique social media website startup.
Social Media is an extremely powerful tool for change, and now is the time to focus as a unified collective in mass through cell phone uploads to Phonagraphy.com. John Lennon said Power to the People. Finally the power is in the hands of five Billion smart phone users worldwide. Now is the time to be proactive, the family of Man shares a common technology that has the capability of advancing positive change on our planet one smart phone at a time. Append the word Responsible to Social Media and through worldwide collaborative efforts lets transform our planet by reintegrating human dignity to the poor and the beauty lost through pollution, greed and ignorance into a healthy environment and society for all future generations.
PHONAGRAPHY.COM is a dynamic Internet platform specifically designed to facilitate Theme Based Photo Sharing in producing an innovative genre of collaborative eBooks ranging from Photographic Arts to Ecological and Social Issues. The website model was designed to ideally harness the power of 5 billion-cell phone users worldwide into a unified mobile alliance. Members have easy access to collaborate globally by uploading smart phone imagery to the Project Grid Page via their Profile page. The Project Grid is where members go to view Categories, post images, leave and read comments, get feedback and post "Likes"etc.
The site platform is designed to facilitate collaborative photo sharing by members who upload images to chosen categories ranging from Landscape and portraiture to environmental and social issues. Unlike Instagram where members upload photographs randomly the mode on Phonagraphy.com is to upload genre specific photos into specific theme based categories. The resulting images will be accessible for members' votes and comments by visiting the Project Grid Page. Photos with the most "Likes" will be published as collaborative compilation of eBooks and sold via Amazon, iTunes etc. Funds from eBooks sales in the Photographic arts will be split with Phonagraphy.com and the photographer while 100% of book profits addressing Social and Environmental issues will be donated to vetted organizations.
Social Media users now have a choice to be proactive by joining and participating in the collaborative journey while Connecting, Collaborating and Giving Back. Phonagraphy members interested in helping to improve their local environment anywhere from Alaska to India can easily do so by simply grabbing a shot with their smart phone that documents pollution or exemplifies social issues in their community and upload it to the Project Grid page designating its category. Photographers are urged to leave a statement about the image documentation and members are encouraged to leave feedback regarding the photo to be shared and included in the eBook publication. David Hoptman founder of Phonagraphy.com created a unique platform that enables members to Reach Out, Connect, Collaborate and GIVE BACK!