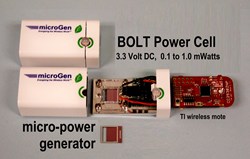 TI Director Strategic Marketing, Mark Buccini praised this demonstration, "This indicates that vibrational energy harvesting on a MEMS level is a real world technology and something that will increase the usefulness of wireless sensors."
Rochester, NY (PRWEB) July 16, 2013
MicroGen Systems, Inc. (MicroGen), the manufacturer of the first piezoelectric MicroElectroMechanical Systems (piezo-MEMS) based vibrational energy harvesters or micro-power generators (MPG), has teamed with Facilities Management Services at the Rochester Institute of Technology (RIT) to install and monitor a wireless sensor network (WSN) measuring temperature on building exhaust and air handling equipment. MicroGen completed this project as part of a NY State Energy Research Development Authority (NYSERDA; http://www.nyserda.ny.gov) commercialization contract award.
MicroGen's BOLT™ Power Cells were fitted on various exhaust fans and blowers in the RIT Science Building that exhibited a range of vibrational frequencies. BOLT Power Cells are 3.3 Volt DC power sources, which contain a piezo-MEMS MPG, AC to DC conversion electronics and a small amount of capacitive energy storage (see "Batteries NOT Included" demonstration video). They are intended to replace or extend the lifetime of batteries, providing greater than 100 microWatts to over 1.0 milliWatt at frequencies between 100 to 1500 Hz at low acceleration levels greater than or equal to 0.1 g (g = 9.8 m/s2). In this case study, Power Cells were used to enable Texas Instruments (TI; http://www.ti.com) eZ430 wireless sensor motes in a WSN and temperature was monitored over a period of five (5) weeks. MicroGen will leave a subset of the self-powered wireless sensors in place for continued analysis and study indefinitely.
Dr. Kathleen Vaeth, VP of Engineering for MicroGen indicated, "We are pleased that RIT gave us this opportunity to demonstrate powering of a WSN with our piezo-MEMS Power Cells in a real world setting. We have been able to show that our vibrational energy harvesters can enable operation of motes and sensors on a variety of equipment in rather harsh environments, and continue to provide power for data transmissions."
Catherine Ahern, PE, MSFM, the Director of Engineering Services, in the Facilities Management Services organization of RIT, and an adjunct professor stated, "This type of installation using wireless sensors and vibrational energy harvesting provides the flexibility for existing buildings to quickly implement a sensing system for monitoring building performance, which will help in energy conservation and maintenance costs. Coupling the MicroGen's BOLT energy harvesting technology with the wireless motes also will be much less expensive than wired solutions in installation."
A similar TI mote based WSN was recently set up at the Sensors Expo in Rosemont, IL on June 4-6th. TI Director Strategic Marketing, Mark Buccini praised this demonstration, "This indicates that vibrational energy harvesting on a MEMS level is a real world technology and something that will increase the usefulness of wireless sensors. MicroGen has brought this technology to the forefront." He added, "I was truly impressed by the low acceleration level G-sensitivity. This will allow many new industrial and building based WSNs to be installed for situations where low vibration levels are present."
MicroGen CFO/COO, Michael Perrotta commented, "This real environment installation proves the viability of MicroGen's piezo-MEMS based energy harvesting solution in a typical industrial and building environment. We believe that this will enable further installations of WSNs as part of building management solutions, and accelerate conversion of existing buildings into 'Smart buildings' in the coming years."
About MicroGen Systems, Inc.
MicroGen is bringing to market a suite of products based on its proprietary piezo-MEMS platform technology at X-FAB Silicon Foundries AG (http://www.xfab.com) production facility located north of Hamburg, Germany. MicroGen's first piezo-MEMS component is a small (volume < 1.0 cm3; smaller than a green pea) vibrational energy harvester or MPG. An MPG is used as the 'heart' of MicroGen's BOLT™ Power Cell DC power source. These low cost, long lifetime products scavenge otherwise wasted ambient vibrational energy will replace or extend the lifetime of batteries in wireless sensor and other microelectronic applications.
MicroGen's primary target market is the industrial and building markets (e.g. process automation, machinery monitoring, lighting control, HVAC, smart utility metering, and many others). Longer term, the secondary market is transportation systems (e.g. planes, trains and automobiles, civil infrastructure monitoring, asset tracking and numerous others).
MicroGen located in Rochester, NY developed its core piezoelectric platform technology at Cornell University (http://www.cnf.cornell.edu). MicroGen is led by a strong international management team, Board of Directors and Advisory Board with significant semiconductor and MEMS industry and start-up company experience.
For more information, visit http://www.microgensystems.com
About Rochester Institute of Technology
RIT is internationally recognized for academic leadership in business, computing, engineering, imaging science, liberal arts, sustainability, and fine and applied arts. In addition, the university offers unparalleled support services for deaf and hard-of-hearing students. RIT enrolls nearly 18,000 full- and part-time students in more than 200 career-oriented and professional programs, and its cooperative education program is one of the oldest and largest in the nation.
For more than two decades, U.S. News& World Report has ranked RIT among the nation's leading comprehensive universities. RIT is featured in The Princeton Review's 2013 edition of The Best 377 Colleges as well as its Guide to 322 Green Colleges. The Fiske Guide to Colleges 2013 names RIT as a "Best Buy," and The Chronicle of Higher Education recognizes RIT among the "Great Colleges to Work For 2012."
To see more of RIT's rankings and recognition, visit http://www.rit.edu/overview/rankings-and-recognition.