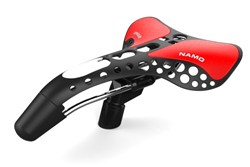 Nothing moves like Namo Seat.
Montreal, Quebec (PRWEB) July 16, 2013
Namo Dynamics is excited to announce the launch of Namo Seat, a bicycle saddle that moves synchronously with the rider's body, side to side, thus preventing saddle sores as well as spine and pelvis area injuries.
Namo Seat has the potential to revolutionize bicycle riding as it is the first ever natural motion bicycle seat capable to follow natural movements of the rider's body while riding. The seat is capable of rotating on a tilted axis hence eliminating chaffing and unwanted discomfort while constantly providing riders with stable and secure support. Thanks to modular design, Namo Seat also offers upgradability and quick replacement of rotating section of the seat from the non-rotating base.
As indicated by many studies bike riding can cause pelvis, spine and neck injuries among many others. Namo Seat represents a bold new step in bicycle saddle technology that offers significant reduction of discomfort and prevents spine injuries related to prolonged bike riding. No other bicycle seat in the world can move with the rider's body like Namo Seat.
More information: http://www.namodynamics.com
Namo Seat is currently undergoing a crowd funding campaign at Indiegogo.com to assimilate enough resources to push the product into production.
If successful, product launch is expected to be set around July 2014.
Jan Wojewodzki, founder and inventor of Namo Seat, says "I love the freedom bicycles give me but hate the pain and discomfort that comes with them. To my disappointment I realized that no company in the world has a good enough solution for this problem. It was then that Namo Seat was born."
Headquartered in Montreal, Namo Dynamics is leading and designing the next frontier of bicycle seat technology.
***
Jan Wojewodzki
Namo Dynamics
http://www.namodynamics.com
janw(at)namodynamics(dot)com
Phone: 450-441-1470