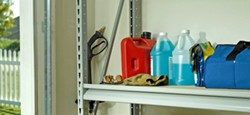 Lincoln, RI (PRWEB) July 15, 2013
Summer is the perfect time to mow the lawn or catch up on projects around the house, like deck staining. What you may not know is that many of the products needed for these tasks are stored in the garage and are highly flammable – and may even be susceptible to spontaneous combustion. If not stored properly, gasoline and oily rags containing linseed oil or turpentine oil can be fire hazards.
According to the National Fire Protection Association, the garage is the most common area of origin for home structure fires (20 percent of fires), and oily rags were the most common item to ignite first.
To help you safely store household items that may be flammable or combustible, Amica Insurance is offering these safety tips from the NFPA:
Gasoline

Store gasoline in a tightly sealed metal or plastic container that has been approved by local or state fire authorities or an independent testing laboratory. Never store it in glass jars or non-reusable plastic containers such as milk jugs.
Do not use or store gasoline near possible sources of ignition.
Fill portable gasoline containers outdoors only, and place the container on the ground before filling.
Oily rags

Keep rags that have absorbed oils, such as linseed oil or turpentine, in a covered metal can with a tight-fitting lid.
Be sure the oily rags are thoroughly dried before collection or transport.
About Amica Insurance
Amica Mutual Insurance Co., the nation's oldest mutual insurer of automobiles, was founded in 1907. The company, based in Lincoln, RI, is a national writer of automobile, homeowners, marine and personal umbrella liability insurance. Life coverage is available through Amica Life Insurance Company, a wholly owned subsidiary. Amica employs more than 3,200 people in 40 offices across the country.
Contact: Vince Burks, Corporate Communications, 50 Amica Way, Lincoln, RI 02865-1155, 800-652-6422, ext. 24563
Twitter: Amica
Facebook: Amica Mutual Insurance Co.