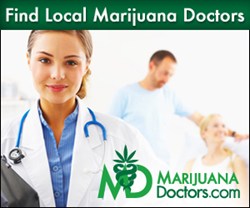 (PRWEB) July 18, 2013
Recognized across the United States as both a leader and an innovator, MarijuanaDoctors.com, serves as the nation's first search-and-booking platform strictly in regards to medical marijuana evaluations. In a previous outreach to the state of Connecticut, MarijuanaDoctors bellowed outcries that the state's lawmakers should've taken a more compassionate approach towards federally regulating medical marijuana. Instead of hearing out the patient's personal testimonials and experiences involving cannabis, lawmakers went with whatever intended gut instinct that was possessed.
Under this current specified circumstance, MarijuanaDoctors is suggesting that the state of Massachusetts take notice of who the medical marijuana program is really intended for: the patients. With Massachusetts opting for a seed-to-sale tracking system to serve as a means of regulation, it is assumed that the state would take into consideration the failures of other state's seed-to-sale tracking systems. These programs would capture everything that happens involving any individual cannabis plant and would essentially compile data of every single step the plant goes through. The most notorious failure of a seed-to-sale tracking system comes courtesy of Colorado, as the programming didn't even finish its final stage of tweaking.
In turn, MarijuanaDoctors is suggesting that the state of Massachusetts drop any seed-to-sale tracking system that was desired. As a regulatory tracking system, a seed-to-sale program would only virtually record the overall net profits of medicine and not any of the information that truly matters: patient symptoms and relief. Luckily, MarijuanaDoctors has a solution, better yet a suggestion in that of the Titration Tracker program. By featuring a patient portal that is more than capable of graph-based reporting to help a patient's licensed primary medical practitioner (the physician who issued the patient a medical marijuana recommendation) better understand how cannabis alters the side effects of a patient's respective condition.
Instead of monitoring the overall profits and funds that come from this compassionate industry, this provides bona fide information that could eventually lead to the rescheduling of cannabis. Instead of worrying about how much the state is making, make this issue about the patients and how it is possible to help the many more who suffer. The Titration Tracker program will provide a sense of security for both patients and physicians alike, and in real-time can track, report and analyze a patient's medication regimen and overall scale of healing. All information input into the Titration tracker can be directly viewed by the patient's physician and will only further solidify the relationship between a doctor and a patient and bridge any gaps of uncertainty.
Overall, MarijuanaDoctors is continuing to make strides towards legitimizing the medical marijuana industry. Through the network's point-of-sales system, deemed the Marijuana Dashboard, the Medical Cannabis Network will be decommissioning the system and in its place, creating the POS functionality directly into the MarijuanaDoctors doctor's dashboard and caregiver's sections. This will allow all compiled data to be directly accessed and reported back to those who need that information most, the doctors. It is also evident that MarijuanaDoctors.com is continuing any efforts to prepare for the reclassification of this miracle drug by further supplying those who need it most with the most substantial and beneficial evidence.