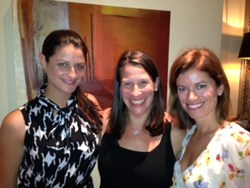 Our project will provide the blueprint for cervical cancer prevention in developing countries everywhere
Washington, DC (PRWEB) July 25, 2013
Over 60 people joined hosts Joe Lockhart, Giovanna Gray, Miriam Hess and David Einhorn to support Basic Health International, a non-profit organization working to eradicate cervical cancer through clinical research, medical training and advocacy.
According to the World Health Organization, approximately 250,000 women die from cervical cancer each year, with nearly 90% of cases occurring in developing countries.
At the event, Basic Health International's President & Founder, Dr. Miriam Cremer, was introduced by David Einhorn, long-time supporter of the organization. Mr. Einhorn said: "As a professional investor, when I decide to invest in a company, I ask myself- what is the opportunity and who is running the show? In the philanthropic world, it isn't very different. By supporting Basic Health, we have an important issue to tackle, and a first-rate leader running the show."
Dr. Cremer explained that she became passionate about cervical cancer prevention as a medical student in 1997 when volunteering in a rural village on the El Salvador-Honduras boarder. During this time she met a woman who bled to death in her own home from this disease. "This is a disease that is completely preventable, yet every two minutes a woman dies- this is completely inexcusable and a human rights violation," said Dr. Cremer. "That is what started my passion to do this work."
Basic Health International, working in collaboration with the Salvadoran Ministry of Health, has recently completed the first phase of an HPV-DNA based cervical cancer screening program that reached 2,000 rural women. Over the next three years, this program will provide the most accurate screening to over 30,000 women. "This is the only project of its kind. And, I believe, the only one with real potential to reach into the recesses of the developing world, where women are most vulnerable. We're implementing the first HPV-screening program using a device designed for use in areas with no running water or electricity," said Dr. Cremer. "Our project in El Salvador will provide the blueprint for cervical cancer prevention in developing countries everywhere."
To learn more about this program, please check out a documentary made for Al Jazeera English's The Cure, called "The Self-screening Revolution."
About Basic Health International
Basic Health International (BHI) was founded in 2005 with a mission to reduce mortality from cervical cancer by improving the implementation of effective screening and treatment methods, providing technical support to local stakeholders and conducting research in innovative technologies. We utilize our expertise in women's health to provide clinical training, research and public policy guidance in the field of cervical cancer screening and treatment, particularly for women in low-resource settings. Our offices are located in New York City and San Salvador, El Salvador.