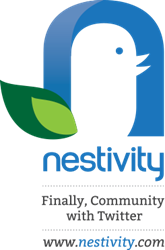 "We debated whether to host our event on a Google+ hangout or on Twitter. With Nestivity, we brought students on both networks together in a single integrated environment," - Nick Jensen, Manager of Marketing, Communications, NYU Student Affairs
LOS ANGELES, CA (PRWEB) July 16, 2013
Nestivity, a social media startup developing community software tools for Twitter, announces its version 1.0 release, enabling brands to broadcast rich media to their community on Twitter. New York University, The National Aquarium, UNICEF, Fox News, and nearly 5,000 beta users have signed up to engage their followers more deeply on Twitter, both in real time dialogues and on-going discussion threads.
"At its core, Nestivity enhances the conversations between brands and individuals on Twitter," explained Henry Min, founder and CEO of Nestivity. "Rather than having one-off, short-lived exchanges of information, users can engage their audience in long-term, meaningful dialogue, and demonstrate to their communities they're actually listening and responding to their customers."
Nestivity 1.0's main features include:
Tweetcasts - A Webinar-like experience that replaces text-only Tweet chats, parties and jams, which are often difficult to follow. Moderators can broadcast rich media on top of the Twitter dialogue, guiding the discussion using onscreen prompts such as slide presentations, videos, images, and even live Google+ Hangouts – all on a single screen. Tweetcasts remain accessible for followers to reference media and links as well as provide ongoing comments long after the live event has ended.
Projects & Discussions - Tweets are organized into threaded conversations, where moderators can listen and publicly respond to customers' questions, suggestions, complaints and accolades. The easily searchable content shows the brand is actually listening and responding to their followers.
Living Archive - Conversations on Nestivity are threaded and archived, so community can easily reference past discussions and previously answered questions, reducing the repetition of frequently answering the same questions. The discussions show up via search as well – a bonus for businesses looking for ways to get the most SEO-juice out of their social media efforts.
EARLY ADOPTERS
Brands and social media influencers are using Nestivity in a variety of ways to allow Twitter followers to become active brand participants.
Last weekend, New York University welcomed incoming freshman to join an hour long Q&A with returning students and recent alumni. NYU hosts hundreds of Webinars for students every year, but it was missing a centralized place where students could ask and answer questions, peer-to-peer. "We debated whether to host our event on a Google+ hangout or on Twitter. With Nestivity, we brought students on both networks together in a single integrated environment," explained Nick Jensen, manager of marketing, communications, & web-based technologies for NYU Student Affairs.
This summer National Aquarium is opening its newest exhibit, Blacktip Reef, with over 3,000 pieces of replicated coral, hundreds of fish and one 500+ pound green sea turtle. They plan to use Nestivity to offer their 20,000 Twitter followers to the behind-the-scenes wonders of a reef coming to life. "We really are excited to be one of the first non-profits to use Nestivity," said Kate Hendrickson, media relations manager for the National Aquarium, "It has presented us with an opportunity to not only share the excitement of launching a new exhibit, but also to engage the public on an ongoing basis about our core mission to inspire conservation of the world's aquatic treasures."
In late June, Forbes columnist and Socialized! author Mark Fidelman moderated a Tweetcast with ten top brands, agencies and influencers that have mastered the art and the science of using Twitter to get people more involved in their businesses. In the hour-long chat, more than 150 participants sent over 600 tweets that collectively reached 1,379,000 users, according to SocialPing. Of the tweets sent, 72 percent were originals and interactions, with 27 percent being retweets.
Nestivity 1.0 includes a limited free version and full-feature subscriptions starting at $19/mo. For more information on Nestivity and opportunities to participate in Tweetcasts, visit http://nestivity.com.
ABOUT NESTIVITY
Nestivity is the first and only community engagement tool that allows you to turn your Twitter handle into a community. The Software-As-A-Service provides an organized and structured venue to engage your audience more deeply by making it possible to turn tweets into conversations that are easy to moderate and easy for your followers to engage. All activity from the community also appears on Twitter, thus amplifying your reach and allowing anyone to find and join the conversation. Nestivity archives Tweet data indefinitely, providing context and persistence in a fast-paced environment where update streams typically move too fast to gain traction. For more information and a list of Nestivity communities now available, visit http://www.nestivity.com.