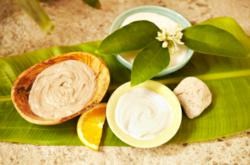 Wichita, KS (PRWEB) July 22, 2013
Zion Health's new Adama Age Defense Beauty Balm with nutrient rich clay minerals is an all-in-one natural skin remedy that offers protection from harmful sun rays and aging skin. The high quality mineral cream has a natural sunscreen offering SPF 30 to help prevent sun damage combined with Vitamin C and anti-aging fruit peptides to nourish skin. Zion Health's Beauty Balm Sunscreen is now available at Green Acres Health Food Store located on 8141 E 21st St N, in Wichita, Kansas.
Although the sunscreen market has numerous chemical products, only 17 active ingredients are currently approved by the FDA, nine of which are known endocrine disruptors. The other two are natural minerals that reflect UV light and include zinc oxide and titanium dioxide. Zion Health's new Adama Age Defense Beauty Balm uses natural zinc oxide to form a barrier on skin against both UVA and UVB rays.
Experts like Dr. Arthur W. Perry, a member of the Medical Advisory Board for The Dr. Oz Show, (http://www.doctoroz.com/videos/your-sunscreen-might-be-poisoning-you) note that chemical sunscreens can be absorbed by the blood and may lose as much as 90% of their effectiveness, whereas physical sunscreens like zinc oxide do not.
Zinc oxide is also considered a gentler alternative to chemical sunscreens for skin. According to Mayo Clinic (http://www.mayoclinic.com/health/baby-sunscreen/AN02156) emeritus consultant Dr. Jay L. Hoeker, sunscreen with inorganic filters such as zinc oxide may be less irritating to the skin and may even be used on babies six months or older.
Zion Health's new Adama Age Defense Beauty Balm with montmorillonite clay combines natural zinc oxide with the antioxidant Vitamin C, anti-aging fruit peptides, and hyaluronic acid for an all-in-one anti-aging, sun defense product. The formulation of Vitamin C combined with fruit peptides work to protect skin from free radical damage while hyaluronic acid is commonly used to replenish skin's nutrients and is approved by the FDA as an effective collagen stimulator.
Zion Health's Age Defense Beauty Balm and organic, natural ancient clay products may now be purchased at Green Acres Market on 8141 E 21st St. in Wichita, Kansas. Zion Products are also available online at http://www.kanwaminerals.com and at health food markets and co-ops throughout the United States and Canada
Zion Health provides its consumers with pure skin and body care products that are vegan, free of parabens and aluminum and formulated using certified organic ingredients whenever possible. For more information on Zion Health products, go to http://www.zionhealth.com.