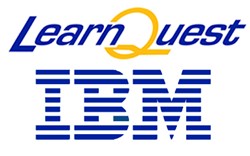 We are proud, excited, and prepared to respond to this vote of confidence from IBM Training.
(PRWEB) July 16, 2013
LearnQuest is very pleased to announce its new status as an authorized IBM Global Training Provider, just one of four companies selected by IBM Training.
IBM Training plans to expand IBM education for IBM Software Group (SWG) and IBM Systems and Technology Group (STG) by accelerating skills growth, increasing adoption of IBM solutions in the global marketplace, and providing the training and expertise necessary to consistently maximize the return on clients' IT investment.
LearnQuest participated in a rigorous selection process that required IBM Global Training candidates to not only exhibit demonstrated excellence in marketing, selling, and delivering IT training but the capacity to do so on a global basis both directly and through their own training partner network.
LearnQuest CEO Lucy Schneiberg says, "We are proud, excited, and prepared to respond to this vote of confidence from IBM Training. I would like to assure our existing and future clients that we will provide them with the same level of competence and quality of delivery that has become a trademark of LearnQuest."
"We are confident that LearnQuest will help IBM Training to reach more professionals in more countries to help develop the necessary IT skills for advanced solutions like mobile, cloud, analytics, and social business," said Bob McDonald, vice president, IBM Training. "Working together with the IBM Global Training Providers, we are taking significant steps to shrink the IT skills gap in order to help clients innovate and grow their business."
About LearnQuest
Since 1997, LearnQuest has been providing complete education solutions for corporations and government organizations that need to train their staff in the latest business skills and Information Technology tools, methodologies, and languages. LearnQuest is accredited by ACCET (The Accrediting Council for Continuing Education & Training), an ISO 9001:2008 certified agency.
LearnQuest helps companies and government agencies worldwide to plan, create, and deliver custom learning solutions, empowering clients' employees to develop the skills necessary to accomplish their business objectives. LearnQuest offers public and private classroom and virtual training, as well as self-paced education to provide learners with a variety of education options to achieve their workplace goals.