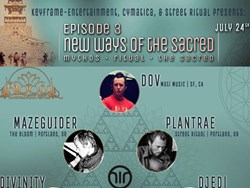 "My passion in the series is rooted in The Bloom's potential for showing the world a new blueprint of social architecture"
San Francisco, CA (PRWEB) July 22, 2013
Created by Jeet-Kei Leung and Akira Chan, The Bloom (http://thebloomseries.com/) is a 4-episode documentary webseries that documents the growing influence of Transformational Festivals throughout the world. Its mission is to explore the festival culture's history while highlighting its core values of community, creativity, understanding, and empowerment of participants as part of a supporting network. Subsequently, the documentary shows the ways that the values inherent in these festivals are then used in different contexts to promote awareness and contribute to a better world. Jeet-Kei Leung also wants his series to spread messages of hope. "We're so constantly inundated by bad if not terrible news that it can be easy to despair. What we want to share with these episode are stories of the ways that participants are doing it right in a diverse and inspiring range of manners," he says.
Keyframe-Entertainment—Executive Producer of the documentary Electronic Awakening (Directed and Produced by Andrew Johner) and Associate Producer of The Bloom's first two episodes—is joining The Bloom project as Executive Producer of Episode 3 and as Screening Director of all episodes. "My passion in The Bloom Series is rooted in its potential for showing the world a new blueprint of social architecture, which encourages sharing, community, participation, and appreciation in order to create a better world," says Julian Reyes of Keyframe-Entertainment. "The common thread I see in the projects that I'm grateful to be a part of is--in my opinion--that we are all one, and the sooner we all realize that, the sooner we can get on to healing our planet," he adds.
Titled "Ways Of the Sacred", the third episode examines the festivals' role in the revival of a sense of mythos for its participants, that they feel is a component of the ritual experience. Combined, these elements contribute to their experience of the "sacred" through an embracing community without fixed dogmas.
To celebrate the world premiere of "Ways Of the Sacred", Keyframe-Entertainment, in collaboration with Cymatica and Street Ritual, will be screening episode #3 at 8:00pm on Wednesday July 24th 2013 at Temple SF. The event will feature performers, live art, vendors, and music from Dov, Plantrae, Divinity, Djedi, Divinity and Mazeguider.. For further event details visit: https://www.facebook.com/events/626537294025405
information on past episodes can be found in http://thebloom.tv/public/. THE BLOOM is a documentary web series that explores the impact of transformational culture through the filming of 23 transformational festivals.
About Keyframe: Keyframe-Entertainment bridges underground Electronic Music culture and the mainstream through transformational media (Film, Music, Visionary Art, Community Building, Social Networking, and Events). Its goal is to create global positive change and enhance the living experience by inspiring, informing and entertaining. Keyframe was launched 2004 as a music label and artist management company and over the years expanded its scope to include consciousness films and events.