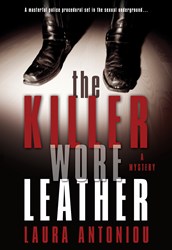 A tremendous amount of care and detail is offered up so that readers can easily slide right into the story.

—Rose Caraway, host of the Kiss Me Quicks podcast
(PRWEB) July 16, 2013
Laura Antoniou, author of the murder mystery thriller The Killer Wore Leather, was interviewed on this week's Poly Weekly.
Cunning Minx, host of the educational and entertaining show, kicked off the episode with a celebration of the repeal of DOMA. She then had a conversation with Laura about everything from her "fabulous new murder mystery" to her previous works, including the acclaimed Marketplace series. Minx describes the book as a "semi-accurate spoof of the bdsm world," and she and Laura discuss the appeal of her writing. The comedic mystery is Laura's first foray into non-erotic writing, and she explains the inspiration to explore a different genre. The two insiders also examine the parallels between LGBT and BDSM communities, both in terms of identity politics and public acceptance.
The Killer Wore Leather is now also available as an audio book for readers who prefer to listen to their literature, and is produced by Susie Bright.
What people are saying about The Killer Wore Leather:
"If you enjoy mystery novels, want a look into the BDSM lifestyle or are just involved in BDSM yourself, I think you'd really enjoy The Killer Wore Leather."
—Pop My Cherry
"What's not to love?"
—Bay Area Reporter
Laura Antoniou authored the well-known Marketplace series of erotic novels. She has also edited the groundbreaking Leatherwomen anthologies, and writes scholarly work on BDSM. In 2011, Antoniou won the Lifetime Achievement Award from the National Leather Association. Her work has been translated into Spanish, German, Hebrew, Japanese and Korean. With over 20 years of experience writing, teaching, and speaking about BDSM communities, Antoniou has sold over 600,000 books and counting. She resides in Queens, New York.