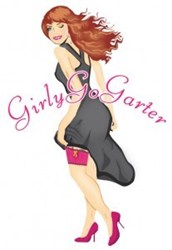 New York, NY (PRWEB) July 16, 2013
Today Andy Paige, stylist to the Stars, announced the official launch of her revolutionary GirlyGoGarter®. This sexy, hands-free purse is set to revolutionize the $96 billion hand bag industry.(i) Once women try the GirlyGoGarter®, they are likely to change where they carry their MILK (money, ID, lipstick, keys).
For decades women have struggled with the notion of lugging around a purse to important ccasions like weddings, prom dances, summer BBQs and even the typical daily errands. Until now, the only viable alternatives have been stuffing cell phones in a bra, money in a waist band or an id in Spanx®. Women now have a safe, secure and sexy place to stash things, hands-free.
The product is a patent pending garter that adheres to the upper thigh with gripping silicone treads and closes with baby soft, size adjusting Velcro. The outer layer is a sophisticated, durable lace, which creates the easy-access pockets. The inner layer is a lingerie quality, moisture wicking micro-fiber that creates the lock-flap pockets. The design and materials of the GirlyGoGarter® make it functional, comfortable and oh so sexy.
"I have had the privilege of working with thousands of women throughout the world and numerous celebrities including styling those on the ABC hit show 'Celebrity Apprentice.' In doing so, I found that women love hand bags yet so often struggle with carrying them every day, everywhere. I guess I'm one of those inventors that takes a common problem and actually creates a solution," said Andy Paige, founder Andy Paige Style. "I have spent nearly five years in production, proto-typing, development and testing to launch the best quality, most practical solution for women that's also sexy!"
"This is crazy ladies, it's fantastic," Marie Osmond, entertainer and host of the Marie Osmond Show.
Kathy Lee Gifford, co-host of the fourth hour of Today Show with Hoda Kotb, said, "No need to shove sweaty twenties in your bra anymore!"
"It's a garter belt, that's great it even holds things like your phone," Hoda Kotb, co-host of the fourth hour of Today Show with Kathie Lee Gifford.
Items It Will Hold:

Money
ID & credit cards
Cell phone
Flask
Condom
Power bar
Spork
Sewing kit
Compact
Lipstick/Lip Gloss
Baby's binky
Passport
Toothbrush
Hand sanitizer
Ear buds
Pocket knife
Epi Pen
Mace
Business cards
Tampon
Mic-Pac
Vitamins/Meds
Gum/Breath Mint
And much more…
Who Can Use It:
Any woman who wants to ditch the purse, carry her essentials and feel sexy while doing so. From brides to waitresses, red carpet celebrities to corporate executives, moms on the go to discrete travelers, the GirlyGoGarter® safely, securely and comfortably holds your must haves in a fun, easy and affordable way.
Product Specifics:
Holds up to 3 lbs. with no bulge, is flexible and stays put while remaining comfortable.
Retail Price: $28.50
Where To Purchase: http://www.GirlyGoGarter.com
Stats:
95% of women aged 18 to 64 carry a purse every day, and those women use, on average, two to three purses on a regular basis (ii)
Women carry on average 67 items in their purse at any given time (iii)
Doctors indicate a purse weighing over 5 pounds can cause neck, shoulder and back pain (iv)
The GirlyGoGarter® is poised to liberate women from always relying on a typically heavy, always necessary hand bag.
About
Andy Paige is the charming and sassy go-to-gal for "thrifty-chic" fashion fixes and budget beauty help. Andy understands that most women live on a budget and yet still want to turn heads and drop jaws. That's why she carved out a niche focusing on the "average" American woman. She launched CENTS OF STYLE® ACCESSORY SUITES™ - a thrifty-chic bundle of accessories a woman can use for an immediate style boost. She makes looking spectacular not only fun, but easy. Andy is the author of the internationally best-selling book, STYLE ON A SHOESTRING and has experience doing over 100 "fabulously frugal" makeovers on over 200 episodes of television, airing in over 14 countries. She earned her title, "Budget Bombshell," honestly through her extensive work. She was featured on NBC's - Starting Over, TLC's - Ten Years Younger, Style Network's - How Do I Look, and SOAP NET'S - Soap Talk. She also appeared on hundreds of local networks doing various style segments. Andy inspires hundreds of thousands of radio listeners throughout the county weekly with her playful and entertaining bargain beauty and style tips. She has shared her economical beautification tips in Soap Opera Digest, The National Enquirer, Woman's Day, First for Women, Cutting Edge, and hundreds of other blogs and web sites. For more information contact Sheila Stewart at 303-378-2022 cell or sstewart(at)sheilastewartpr(dot)com.