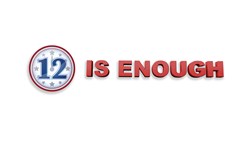 "Suppose you were an idiot. And suppose you were a member of Congress. But I repeat myself" -– Mark Twain
Los Angeles, CA (PRWEB) July 16, 2013
Term limit group 12 is Enough is working to improve Congress. A new poll by The Economist / YouGov shows the United States Congress has an approval rating of 7%. The poll was conducted July 6-8, 2013 with 1,000 respondents. Full results are available at http://today.yougov.com/news/categories/economist/.
Ian Clark of 12 is Enough is using these poll results to help promote the group's push for Congressional term limits. "For Congress term limits would help improve their approval ratings by sharing power with other talented Americans. Career politicians are not able or willing to get anything done in Congress. A 7% approval rating should be a wake up call that things need to be improved." 12 is Enough is pushing for a term limit amendment to the Constitution.
Professional research and consulting organization YouGov asked registered voters "Do you approve of the way the U.S. Congress is handling its job?" Only 7% said yes. This was the lowest approval rating for Congress since YouGov started tracking in 2009. Only 1% of all respondents said they strongly approve of Congress.
The latest term limit polling a 2013 Gallup poll shows that 75% of Americans approve of Congressional term limits. The findings, from Gallup Daily tracking conducted this year Jan. 8-9, are similar to those from 1994 to 1996 Gallup polls, in which between two-thirds and three-quarters of Americans said they would vote for a constitutional amendment to limit the number of terms that members of Congress and the U.S. Senate can serve.
About 12 is Enough:
12 is Enough has the goal of ending career politics in Washington with term limits. The group was founded by Ian Clark, a leader in the term limit movement. To learn more about the organization please visit http://www.12isEnough.com for more information.