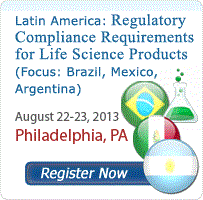 Philadelphia, PA (PRWEB) July 22, 2013
ComplianceOnline, the leading governance, risk and compliance advisory network with over 500 experts in various regulatory subjects, today announced a seminar on Latin America: Regulatory Compliance Requirements for Life Science Products (Focus: Brazil, Mexico, Argentina). The two day long seminar led by regulatory affairs expert Robert J. Russell will be held on August 22 and 23, 2013 in Philadelphia, PA.
For more information or to register for the seminar, please click here.
Seminar instructor Robert J. Russell is the president of RJR consulting Inc., which specializes in global regulatory issues for the pharmaceutical industry. He has more than 25 years of working experience with the FDA and the Commission on technical issues as they relate to policy development, regulation, clinical trial and the medical device development process. He was also the global director of regulatory affairs for two Fortune 100 firms.
During the two day interactive seminar, Mr. Russell will focus on the overall regulatory compliance requirements and procedures for pharmaceuticals, medical devices, biologics and combination products in Latin America. The primary countries covered are Argentina, Brazil and Mexico. Other countries which will be discussed are Chile, Costa Rica, Dominican Republic, Panama, Peru and Venezuela. The course will cover topics related to pre-clinical and clinical requirements and the current regulatory climate in Latin America. It will also explain how Latin America interacts with and utilizes ICH standards. Mr. Russell will explain the common issues that have caused difficulties for life sciences firms in Latin America and will provide attendees an understanding on how to best address the conflicts, which arise and the best course for resolution.
The seminar will be valuable for any regulatory personnel whose responsibilities require knowledge of Latin America's regulatory environment, administrative staff, QA/ QC personnel, global supply chain personnel, manufacturing personnel, global business development personnel and any clinical/pharma and device personnel.
Date: Thursday, August 22 and Friday, August 23, 2013, 8.30 AM- 4.30 PM EDT
Venue & Location: Courtyard Philadelphia Downtown
21 N. Juniper Street
Philadelphia, PA 19107
Registration Cost: $1,699.00 per registration
Early bird discounts: For discounts on early registrations, please click here .
Register by phone: Please call our customer service specialists at +1-650-620-3937 or email to customercare(at)complianceonline(dot)com.
For more information on ComplianceOnline or to browse through our trainings, please visit our website.
About ComplianceOnline
ComplianceOnline is a leading provider of regulatory/compliance trainings for companies and professionals in regulated industries. ComplianceOnline has successfully trained over 20,000 professionals from 3,000 companies to comply with the requirements of regulatory agencies. ComplianceOnline is headquartered in Palo Alto, California and can be reached at
http://www.complianceonline.com.
For more information please contact:
A Reuben Bernard
Manager of Program Marketing
ComplianceOnline
2600 E Bayshore Rd
Palo Alto CA USA 94303
650-620-3937 phone
650-963-2530 fax
reuben(at)complianceonline(dot)com
http://www.complianceonline.com