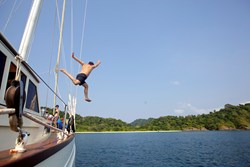 In the Mergui visiting yachts can sail for days on end and meet not a soul but the odd Moken fisherman in a dugout canoe.
Kawthaung, Myanmar (PRWEB) July 17, 2013
(Burma Boating) Myanmar's Mergui Archipelago might be one the most beautiful sailing areas in the world. Yet hardly anyone knows about it. Think white beaches lined with palm trees and dense jungle. Think swimming in azure water amongst colorful reef fish, spotting corals, and collecting seashells. Now, picture eagles circling above, gibbons and monitor lizards eyeing you from the thickets, while a sundowner is being mixed on board the yacht.
Just across from the Thai border, the archipelago opened to foreigners as recently as the late 1990s. With only a few of the 800 islands sparsely populated and a couple dozen visitors to the entire area each month, the Mergui Archipelago remains one of the planet's most unspoilt destinations.
"We usually sail for days without seeing a single other yacht," says captain Herbert Mayrhauser, an Austrian who has spent the last 30 years as a skipper of various yachts in the Mediterranean, the Caribbean and in Asia. "I have visited countless beaches in the Mergui with not a single footprint in the sand," says Mayrhauser.
The traditional inhabitants of the Mergui Archipelago are the Moken, a people who live off, and on, the sea. Sometimes called "sea-gypsies", this ethnic minority group leads a traditional, semi-nomadic lifestyle, dominated by diving for sea cucumbers, fishing and bartering. In the Mergui visiting yachts can sail for days on end and meet not a soul but the odd Moken fisherman in a dugout canoe.
Burma Boating offers two kinds of sailing holidays: Guests can book a cabin and join one of the regular cruises departing on Saturdays in Kawthaung and returning on Thursdays. Travelers planning a more exclusive cruise might want to consider chartering the yacht for themselves and plan their own sailing holiday in Myanmar – or Thailand, Malaysia and beyond. The vessel has space for up to 10 guests.
Meta IV was designed by the naval architect Thomas E. Colvin, who gave the yacht her beautiful shape and robust hull. She is made entirely of Thai teak, one of the best woods for building classic boats. She was constructed in 1998 as a private yacht for a Swiss businessman who made his fortune in hotels. In 2010, Mayrhauser found her at a pier in Phuket and immediately fell in love. After two years of intensive restoration work and refitting, Meta IV started her new life as a luxury charter vessel in the fall of 2012.
Meta IV measures 85 feet in length or 25 meters. That's longer than the Santa Maria, the boat that Columbus sailed into history when he discovered the Americas. In fact, with all her space, guests could almost forget they were holidaying on a yacht. And with Meta IV they discover the Mergui in style.
Myanmar's tourism industry is growing fast, but hotels have not been able to keep up with the demand. Until now there is virtually no infrastructure in the archipelago and a private yacht remains the only option to discover the region and its beauty.
Burma Boating was founded by a group of passionate sailors who could not believe their eyes when they first discovered the pristine beaches and waters of the Mergui Archipelago. Right there and then they decided to share these wonders.
Rates for a 5-night cruise aboard Meta IV start at USD 1,990 per person.
END
NOTE: Download more photos in high-res at http://www.burmaboating.com/business