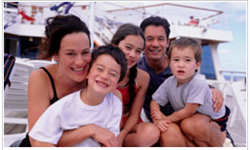 "I don't know half of you half as well as I should like; and I like less than half of you half as well as you deserve."
― J.R.R. Tolkien, The Fellowship of the Ring
(PRWEB) July 18, 2013
With July being Family Reunion Month, Ancestry.com has created a television series called "It's a Family Reunion: What's Your Story" announces AncestorEbooks. This show is part reality show and part documentary made for WFYI 3 in Indianapolis. [bit.ly/18V4q1q]
The next episode airs July 20 and features the Clark Family Reunion in Atlanta, GA. Jamarl Clark, the regional coordinator, was not prepared for the "emotional journey and discoveries of his family's ancestral roots." [itsafamilyreunion.com/?page_id=798]
After putting together his path and unlocking secrets during the three-day reunion, Jamarl Clark said, "I learned most of all to never give up on my family." According to the official "It's a Family Reunion: What's Your Story?" web page, "The second episode is a roller coaster of surprises and emotions that ends with a spectacular tribute to those who paid the ultimate sacrifice for justice, freedom and unity."
The Godette Family Reunion is scheduled for this month also with the theme of "Keeping Our Roots Strong and Staying Connected."  The purpose of this family reunion focuses on the importance of family, family history, and culture. [godettefamilyreunion.com/3/miscellaneous4.htm]
The Loney Family in South Carolina, has planned a series of activities for their reunion, following their theme of "Make the Most of the Coast!" plans include a social, Historical Wilmington African-American tour a Historic Ghost Tour, and a Southern Banquet aboard the Henrietta III, a historic steamboat.
"Now days, 'family reunion' does not necessarily mean a family related through blood. There are now family reunions for people who represent a particular brand such as Scentsy [scentsyfamilyreunion.com/] or even a support group for substance abuse rehabilitation members. The ideas of what makes a family are different for everyone."
No matter what kind of family reunion is being planned, all reunions have one thing in common, how to make the reunion memorable. [mosaic-magazine.com/July-2013/Family-reunions/] 
Jonathon Benetiz, cofounder of Garcia + Benitez a marketing and event planning company says, "A destination place is always a great idea. That way everyone is together, yet everyone is able to do their own thing and you can plan activities to do together as a group."
Resorts will offer packages that include room, three meals a day, beverages, resort taxes and even the tip. Usually, resorts will include activities that families can do together such as volleyball, water sports, and fitness centers. [bit.ly/1dBd5nj]
Benitez continues, "It's stress-free because the things are already there and it saves you from having to do all the cooking. You are able, at most resorts, to have to kitchen available so that if you want a home-cooked meal you have that option, but it saves you from having everyone come to your house and trashing it. If you do a destination event, all the planning is done for you."
Disney World Resort in Florida has special services available for a reunion of eight or more people. Everyone who is a part of a Disney Grand Gathering will have access to receptions, dinners and gatherings available only to the group.  The resort will even provide personalized Mickey ears, pins and have photographers on hand to snap pictures to turn into special memorabilia. [bit.ly/1bEnHUm]
Explaining about families who choose to be traditional and meet at a family member's home, continues Benitez, "In the planning process, put people in charge of something they like to do or what they are passionate about. If you have an aunt who likes to cook, let her teach some of her favorite dishes. If you have an uncle who likes sports or to watch sports, have him do a flag-football game or a basketball game."
However, despite July being the official Family Reunion Month, consider holding your reunion during a long weekend during the slow times for resorts. Often there are discount rates to make family reunions more affordable to all during the "off" season. [bit.ly/1dBdDd3]
Gayla Mendenhall says, "No matter what kind of Family Reunion you hold, AncestorEbooks has a wonderful way of creating personal Ebooks to share with all members of the reunion. With our unique design, you can upload a GEDCOM file and tag each picture with the names of all family members involved. Create pages for activities that your group participated in, oldest and youngest family at the reunion, the possibilities are endless. Then once your personalized Ebook is completed, download it to everyone."