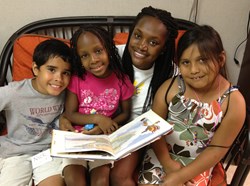 Brent McLaughlin, Executive Director: "As we launch the fourth Branches Grow program in South Florida, we are excited to provide academic and enrichment opportunities for children, helping them succeed in both school and life."
Miami, FL (PRWEB) July 18, 2013
Branches plans on launching its 4th Grow program on August 19th, 2013 to serve children in the North Miami area at its Main Office & Community Center. The Branches Grow program serves elementary students preparing them for lifelong success through enrichment of their minds, bodies and hearts. Branches' engagement with the students begins after school with tutoring and homework help but continues with enrichment activities including: Summer Shade Camp, Recreational Activities, Social Skill Development, Mentoring and Healthy Meals and Snacks. The Branches Grow program currently operates in Florida City, South Miami and North Miami Beach.
The Branches Community Center Grow program will launch serving 25 low-income and at-risk elementary students from the North Miami area. Branches is partnering with the Lakeview Elementary School across the street to identify children in need of after school enrichment and tutoring. Branches is also recruiting students by sharing information about this new program with clients from the United Way Center for Financial Stability, which Branches houses and operates. Funding for the Grow program has been generously provided by the Batchelor Foundation. In addition, the Foundation has provided a matching grant up to $20,000 for all funds raised for this program, expiring December 31st, 2013.
Mrs. Martine Marcelin, who grew up at Branches Florida City, will serve as the Program Manager for the Branches Community Center Grow program. Martine herself has overcome many obstacles in life and will be able to serve as an incredible role model to the students in the program. When Martine was 5 years old, she and her mother boarded a boat in Haiti to make the uncertain journey to the United States. Fortunately, they arrived safely and settled in Florida City. Martine remembers attending first grade and how the other children made fun of her poor English and heavy accent. When Martine was in sixth grade, she was referred to Branches for after school tutoring. Mrs. Kim Torres, the Director of Student Services, had seen too many girls enter their teen years, become pregnant, drop out of school and generally waste their potential. Therefore, Mrs. Torres and her team of staff and volunteers worked very hard to guide and mentor Martine toward a more productive future.
Martine loved the care and attention she received at Branches and would spend most of her out of school hours at Branches. Mrs. Torres encouraged Martine to apply to a magnet middle school program that launched her journey through a competitive high school. Martine succeeded in school and had the motivation to attend college. Through a very long process of visiting colleges, researching scholarships, and filling out applications, Mrs. Torres worked with Martine to find just the right fit for her. In May 2009, Martine proudly graduated from Florida Southern College under a full scholarship. After college, Martine returned to Florida City to serve as a Branches AmeriCorps member where she met her husband Gary. Martine and Gary got married and moved to Washington, DC so Gary could pursue a master's degree while Martine worked at a non-profit as a program officer. Fortunately for Branches, Martine and Gary have decided to return to serve their community in South Florida.
To learn more about the Branches Community Center Grow program or to make a donation, please call 305-442-8306 x1002.
About Branches
For 40 years, Branches (formerly South Florida Urban Ministries) has made a positive impact in the community by delivering on its mission to serve, educate and inspire people through student, family and financial stability services. Branches provides long-term, holistic services for motivated individuals and families. We help people grow deeper and climb higher in life by building a foundation through education so they can achieve their goals and fulfill their potential. For additional information about Branches, please call 305.442.8306 or visit http://www.branchesfl.org.