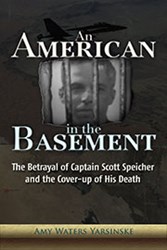 (PRWEB) July 16, 2013
An American In The Basement: An Investigation Into What Happens to American's Prisoners of War and Missing in Action, Framed by the Real Story of Captain Scott Speicher is now available for purchase. Author Amy Waters Yarsinske is available for interview.
Background:
By now it has become abundantly clear that the Pentagon's effort to account for tens of thousands of Americans missing in action from foreign wars is so inept, mismanaged and wasteful that it risks descending from "dysfunction to total failure," according to an internal study suppressed by military officials. After you read An American In The Basement you'll realize that this "dysfunction and total failure" goes well beyond the descriptive. The story goes deeper; it goes to the betrayal of Captain Scott Speicher and the cover-up of his death and it goes to the betrayal and cover-up of thousands of other American POW/MIAs left alive to die by their country. With chapter titles like the "Left Alive to Die", "The Falcon Hunter", "Dead or Alive?", "Denial, Deceit and Deception", "A Find in the Desert" and "The Cover Up of the Cover Up"; the book documents what happened, from beginning to end, to Speicher – putting him in the context of the United States' missteps, mistakes and deception regarding the POW/MIA issue – with new documentation, sourcing and eyewitness accounts that confirm Speicher was alive and eventually captured by Saddam Hussein. The book also examines in great detail the war of words exercised by the Pentagon to define those it will bring home and those it will choose to ignore, policy in direct violation of the Code of Conduct.
Author Amy Waters Yarsinske makes the case that this book is for every serviceman and woman, plus every parent, family member or friend of one. But it also a story that every American should read. We should all – after reading her well researched and sourced book – seriously question the sincerity of the oft-repeated pledge made by our leadership and the military chain of command to do everything in their power to search for, locate, assist and recover all prisoners of war and missing in action. Yarsinske shows us through painstaking research and a true passion for justice that this pledge is, when politically inconvenient, just an empty promise.
To read more about An American In The Basement go to: https://www.facebook.com/AnAmericanInTheBasement
Contact:
AMY WATERS YARSINSKE
AUTHOR
P.O. BOX 6051
NORFOLK, VIRGINIA 23508-6051
(757) 621-5828 Cellular
ayarsinske(at)cox(dot)net E-Mail
http://www.amywatersyarsinske.com Web site
or
KRIS MILLEGAN
PUBLISHER
TRINE DAY PRESS
(800) 556-2012 Office
publisher(dot)trineday(dot)com
http://www.trineday.com Web site